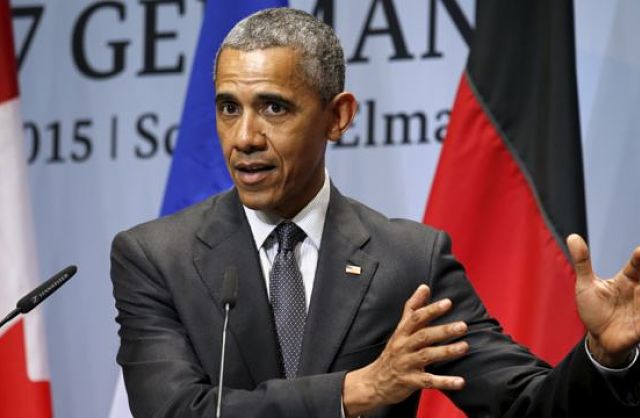 June 08, 2015
President Barack Obama weighed in on the deepening corruption scandal involving world soccer's governing body Monday, saying it was essential that the sport's integrity be ensured.
U.S. prosecutors last month unveiled indictments that painted a picture of endemic corruption and bribery among some officials at FIFA, the Swiss-based organization that runs soccer tournaments around the world. That includes the quadrennial World Cup, by many accounts the most-watched sporting event in the world.
Speaking at a news conference in Germany, where he attended a meeting of the Group of Seven industrialized nations, Obama offered his first public comments on the ongoing investigation and the problems afflicting FIFA.
People in Europe and elsewhere want FIFA to operate with "integrity, transparency and accountability," Obama said in response to a reporter's question.
It's important, he said, "to keep in mind that although football, soccer … is a game, but it's also a massive business, a source of incredible national pride and people want to make sure that it operates with integrity."
"The United States … we want to make sure that a sport that's gaining popularity is conducted in an upright manner," he said.
The indictments unsealed on May 27 in New York targeted 14 soccer executives and sport marketing officials, and revealed guilty pleas by four other executives.
Seismic changes
The charges rocked the soccer world and ultimately pushed FIFA's chief, Sepp Blatter, to resign after he initially defied calls to leave. Blatter has not been charged. His resignation likely won't take effect until at least December, the earliest date for a new FIFA election, according to Domenico Scala, the independent chairman of FIFA's audit and compliance committee.
The indictments also detailed the process for the awarding of the 2010 World Cup in South Africa.
To gain the rights to host the tournament, the indictments allege, South Africa's soccer federation allegedly funneled $10 million in bribes to Jack Warner, the former head of the regional soccer organization for North and Central America and the Caribbean. Warner was arrested at a hotel in Switzerland and released on bail. He has denied the charges.
The news has stoked speculation that the FIFA decisions awarding the 2018 and 2022 World Cups to Russia and Qatar, respectively, could also be reviewed.
In a report last week, Reuters, citing an unnamed U.S. law enforcement official, said the FBI's investigation includes scrutiny of how the organization awarded those tournaments.
Swiss prosecutors have also said they were investigating the 2018 and 2022 bids. The decision on Qatar, a tiny desert country with no domestic tradition of soccer, was particularly criticized by soccer officials in Western countries.
A Swiss newspaper reported Scala as saying that Russia and Qatar could lose the right to host the tournaments if evidence is found of corruption in the bidding process.
"If evidence exists that Qatar and Russia received the [World Cup] awards only thanks to bribes, then the awards could be annulled," he was quoted by Sonntagszeitung in a report published Sunday.
—
Related:
African Union Chair Dlamini-Zuma Implicated in Fifa World Cup Bribe Scandal (Mail & Guardian)
Fifa Corruption: Documents Show South Africa's World Cup Bribe Payments (BBC News)
Gedion Zelalem to play for U.S. at FIFA Under-20 World Cup (Fox Soccer)
Join the conversation on Twitter and Facebook.