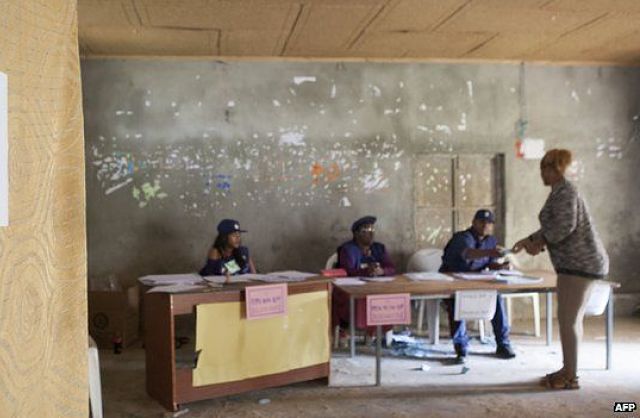 By JACEY FORTIN
Ethiopia's governing party and its allies are poised to control every seat in the nation's Parliament, according to official results announced Monday by the country's electoral board.
In the last election, held five years ago, only one opposition member and one independent candidate won seats in Parliament.
This year's results are even more one-sided: The governing party and its allies have won 100 percent of the races announced so far, giving them control of 546 seats.
The results from one remaining constituency, where polling was delayed by violent skirmishes, have yet to be disclosed…The chairman of the electoral board, Merga Bekana, said this year's elections were conducted in a "free, fair, peaceful, credible and democratic manner."
But opposition party members disagreed, pointing to an uneven playing field and continuing efforts to intimidate those who challenge the governing Ethiopian People's Revolutionary Democratic Front, which is itself a coalition of four regional parties.
"It's a tough time for Ethiopia," said Yilkal Getnet, chairman of the opposition party, Semayawi. "A 100 percent win should never be accepted as reality."
—-
Related:
Ethiopian opposition party says candidate's murder was politically motivated (Reuters)
Semayawi Party Says 'Everybody Knows Who Killed Samie' (RFI)
Ethiopia Opposition Candidate Dies After Attack in Northwest (Bloomberg)
Ethiopia's crackdown on dissent drives opposition to push for 'freedom first' (The Guardian)
Ethiopia Opposition Says Elections 'Undemocratic Disgrace' (AFP)
As Expected Ruling Party Claims Big Win in Early Ethiopia Election Results
Statement From US State Dept on Ethiopia May 24th Elections (Press Release)
AU Observers Avoid Words 'Free & Fair' In Ethiopia Election Assessment (VOA)
African Observers Say Ethiopia Poll Credible, Opposition Cries Foul (Reuters)
No Suspense in Ethiopia Election Results (Photos)
Ethiopia's Ruling Party Is Expected to Keep Grip on Power (NY Times)
Ethiopia Election Met With Silence From Ordinary Voters (VOA News)
Ethiopia's Election: 'Africa's Largest Exercise of Political Theatre' (The Guardian)
With Limited Independent Press, Ethiopians Left Voting in the Dark (CPJ)
Opponents Question Ethiopia's Democracy (VOA)
Imperiling the Right to Vote in Ethiopia (Robert F. Kennedy Human Rights)
Is Ethiopia About to Get More Than One Opposition MP? (BBC)
No Western Observers for Ethiopian Elections (VOA)
As Ethiopia Votes, What's 'Free and Fair' Got to Do With It? — The Washington Post
Washington Enables Authoritarianism in Ethiopia (Aljazeera America)
Ethiopian PM Faces His First Election Ever (VOA News)
Wendy Sherman Says Editorial on US-Ethiopia 'Mischaracterized My Remarks' (The Washington Post)
The United States' Irresponsible Praise of Ethiopia's Regime — The Washington Post
U.S. Wrong to Endorse Ethiopia's Elections (Freedom House)
Join the conversation on Twitter and Facebook.