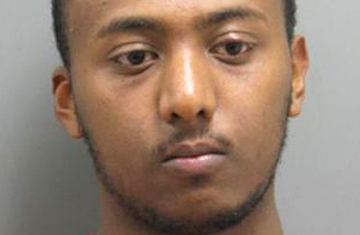 Tadias Magazine
News Update
Friday, June 24, 2011
New York (Tadias) – Yonathan Melaku, a 22-year-old Virginia resident and a Marine Corps Reserve lance corporal, has been charged with shootings at four D.C. area military sites that took place last fall.
Prosecutors said in court paper that they have evidence that the suspect videotaped himself shouting "Allah Akbar" after he fired shots into the windows of the U.S. Marine Corps museum, located in Triangle, Virginia, on October 16, 2010.
"Alright next time this video turns on, I will be shooting," Melaku said on the video, court papers say. "That's what they get. That's my target. that's the military building. It's going to be attacked."
The U.S. Attorney's office said if he is convicted of these crimes, Melaku would face a minimum of 35 years in prison and a maximum of life in prison.
According to authorities, the museum shooting in Triangle caused nearly $90,000 of damage to the building. The other shooting incidents occurred at the Pentagon and two military recruiting centers between October and November of last year.
Melaku was taken into custody at Arlington National Cemetery on Friday, June 17 after he was found carrying a backpack containing suspicious items, including the bomb making material ammonium nitrate, spent 9mm shell casings, work gloves, a headlamp and pro-al Qaeda literature.
"Today's charges allege a pattern of violent behavior…we believe his statements that he's targeting military installations speak to his desire to engage in violent activity against the military," U.S. Attorney Neil H. MacBride said.
Video: Yonathan Melaku of Virginia Charged With Military Shootings (The Associated Press)

According to The Washington Post, Melaku remains jailed in Virginia where he has been charged with four counts of grand larceny involving car vandalism and theft. Police records show he was also arrested on May 26 in Leesburg, Virginia, for allegedly smashing windows and stealing property from 27 cars.
"Its always disappointing when someone who wears this uniform gets in trouble with the law," Lt.. Col Chris Hughes, a spokesman for the Marines, told the Washington Post.
According to the FBI, he serves as "a Marine Corps reservist Lance Cpl and a motor vehicle operator with Combat Engineer Support Company, 4th Combat Engineer Battalion, 4th Marine Division, Marine Forces Reserve. He has previously been awarded the National Defense Service Medal and the Selected Marine Corps Reserve Medal. He has not deployed overseas."
The military said paperwork has been filed for the Lance Corporal to be removed from the service. "Melaku was notified Tuesday at the Loudoun County Adult Detention Center that he will be processed for administrative separation due to charges of serious offense," said the Marine Corps in a statement.
Melaku is a naturalized American citizen from Ethiopia.
—
Watch: Pentagon scare suspect, Yonathan Melaku, charged in shootings