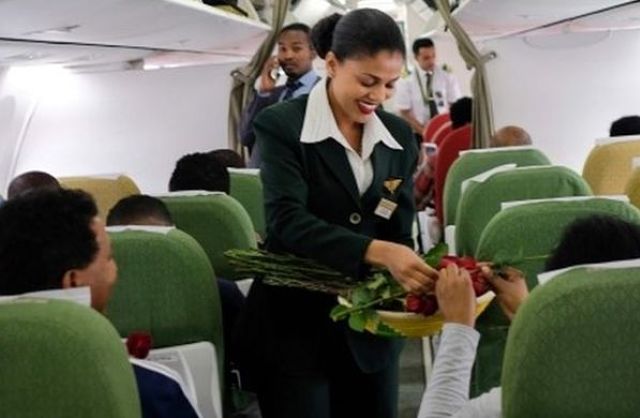 BBC
Roses and champagne have been given to passengers on the first commercial flight between Ethiopia and Eritrea in 20 years.
Ethiopian Airlines said its "bird of peace" flew to Eritrea, after the end of the "state of war".
"I am in cloud nine," flight captain Yosef Hailu told the BBC.
Relatives and friends are expected to be reunited for the first time since a 1998-2000 border war between the two nations shut air and road travel.
Ethiopia's Prime Minister Abiy Ahmed has spearheaded a peace process with Eritrea since he took office in April.
He signed a "peace and friendship" agreement with Eritrea's President Isaias Afwerki on 9 July, declaring that the "state of war" was over.
The deal was signed in Eritrea's capital, Asmara, during the first visit by an Ethiopian head of state to the country in 20 years.
Mr Isaias made a reciprocal visit to Ethiopia about a week later.
The two leaders agreed to restore diplomatic ties, and resume air and road travel.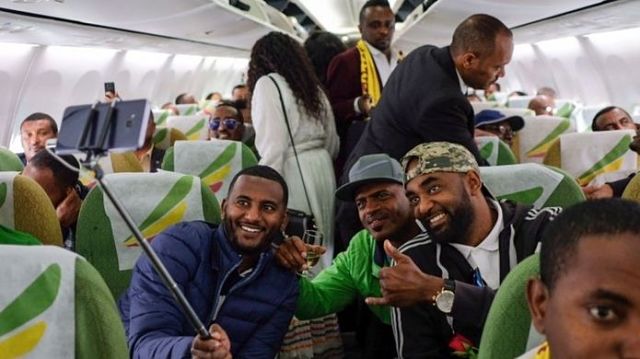 Former Ethiopian Prime Minister Hailemariam Desalegn was among the passengers on the historic flight.
He told the BBC's Emmanuel Igunza that he was emotional about making the trip.
"It's a golden moment for the two countries and the two people," he said.
Captain Yosef said he was looking forward to meeting friends in Eritrea.
"I'm going back to the place where I grew up. I'm really happy," he told the BBC.
Ethiopia Airlines tweeted a picture of the pilots in the cockpit before take-off.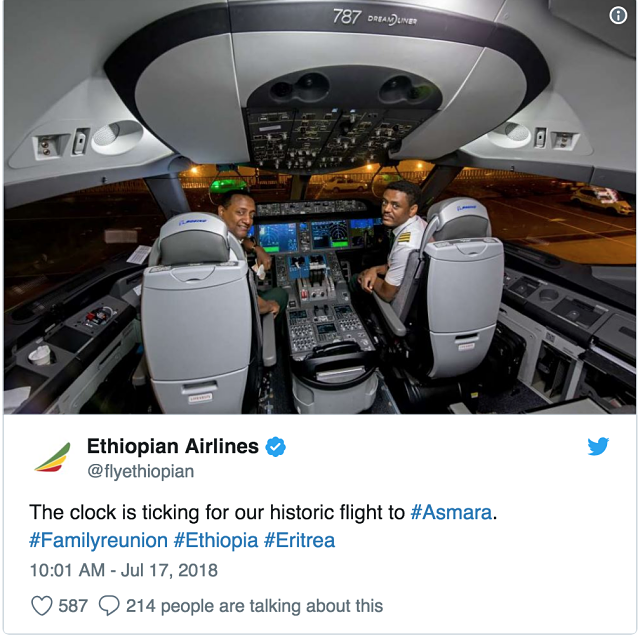 —
Related:
Ethiopia's Young, New Leader Shakes Up One-Party System — Wall Street Journal
PM Abiy Ahmed to Meet Ethiopian Community in Washington DC July 28th
A Diaspora Trust Fund for Ethiopia and Embracing a Culture of Democracy (Editorial)
With Hugs, Leaders of Rivals Ethiopia, Eritrea Finally Meet
PM Abiy Ahmed to Travel to Washington D.C. & Los Angeles on July 28-29
Images: Washington DC Rally to Support Ethiopia's New PM Dr. Abiy Ahmed
Join the conversation on Twitter and Facebook.