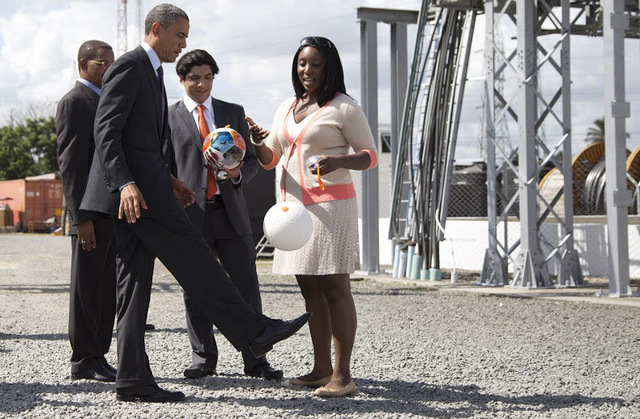 VOA News
By Michael Bowman
CAPITOL HILL — Prospective U.S. diplomats to Africa say President Barack Obama's recent trip to the continent underscored persistent challenges and vast opportunities that cry out for robust and sustained American engagement. Administration nominees for the State Department's top Africa post, as well as numerous ambassadorships, testified Wednesday at their Senate confirmation hearing.
During his three-nation trip to Africa earlier this month, Obama unveiled initiatives to boost electric service on the continent, increase trade and commercial ties, and help groom Africa's next generation of leaders. But more must be done, according to Democratic Senator Chris Coons, chairman of the Senate Foreign Relations subcommittee on Africa.
"President Obama's recent trip was a positive demonstration of U.S. commitment, and the president's initiatives on trade, energy, young African leaders and wildlife trafficking, I think have significant potential. But our relationships have to extend broadly beyond a single presidential trip," he said.
That statement got no argument from Obama's nominee to be Assistant Secretary of State for African Affairs, Linda Thomas-Greenfield, who noted the continent's rapidly-growing economic prowess.
"Africa is booming," she said.
Thomas-Greenfield pledged to work to reduce trade barriers between the United States and Africa, and to promote the continent as a place where U.S. companies can make profits.
And Africa is hungry for increased commercial ties with the United States, according to Reuben Brigety, nominated to be America's envoy to the African Union.
"Every time I go to the continent, I am surprised by how eager African business leaders and African political leaders are for American companies to show up. Six of the 10 fastest-growing countries in the world are in Africa. Some 60 percent of the population is under the age of 30. In many ways, it is the continent of the future," said Brigety.
Thomas-Greenfield, a career diplomat with extensive experience in Africa, however, said Africa cannot reach its full potential until serious challenges are overcome.
"Lack of fiscal transparency and corruption significantly discourage investment. Too many lives have been lost and too many futures destroyed. Violent extremist organizations, some of them affiliated with al-Qaida, seek to exploit conflicts and weak institutions to expand their reach," she said.
Several senators noted America's humanitarian aid and other forms of assistance provided to African nations in hopes of promoting a healthier, more prosperous populace living under democratic regimes that practice good governance.
The man nominated to be the next U.S. ambassador to Nigeria, James Entwistle, said American assistance must be deployed with a long-term strategy.
"Everything we do, every development activity, has to have a component of building up the host country's ability to do it themselves," said Entwistle. "For example, a health project should contain a component of building up the health ministry and the health infrastructure. Looking at everything we are doing and asking the tough questions to find out, to be blunt: 'are we working ourselves out of a job, as we should be?'"
Others who testified included the nominees to be ambassadors to Ethiopia, Congo, and South Africa.
—
Related:
Moving Beyond Obama: Empowering Ethiopians to Influence US Foreign Policy (TADIAS)
Tadias Interview: Ambassador David Shinn on Obama's Africa Trip
Ethiopia: Children TV Host Speaks at African First Ladies Summit in Tanzania (TADIAS)
Obama Africa Trip Highlights Senegal, South Africa and Tanzania (TADIAS)
Watch: President Obama delivers the central speech of his three nation Africa tour (VOA News)

UPDATE: Mali Awaits Presidential Election Results (VOA)
Join the conversation on Twitter and Facebook