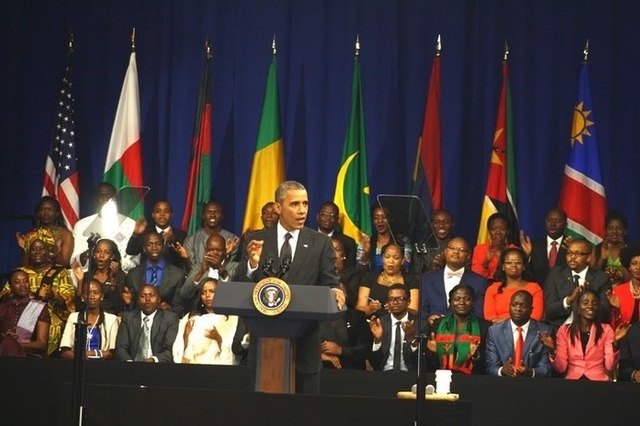 The Economist | From the print edition
America and Africa: The next great disruption
Aug 2nd 2014
AIR FORCE ONE AND WASHINGTON, DC – AMERICA, an exceptional place, has long stood out for a willingness to take big bets on the rise of others. Post-war American governments devoted vast amounts of money, attention and military might to rebuilding or being the midwife of economies and democracies in Europe and Asia, with spectacular results. Of the country's 15 largest trading partners today, 11 are former recipients of American aid.
Now Africa is set to deliver a fresh asymmetric shock to the global order, taking its place as the last great emerging market. Its population is set to double by 2050, and will be astonishingly young. Does Barack Obama's America have the patience and confidence to welcome this change, harnessing it for mutual gain? Or is today's America more like an old-world power, risk-averse, inward-looking and fearful of change? Africa may seem a sideshow now, but it is not a bad test of America's standing in the world…
America has reasons to bet big. It enjoys more latent goodwill than ex-imperial Europe (Nelson Mandela said that the election of Mr Obama, the son of a Kenyan economist, was proof that people everywhere should "dare to dream"). America is more trusted in Africa than China, whose vast investments have at times sparked comparisons with colonial exploitation.
Yet critics accuse Mr Obama of all but ignoring the continent, only paying his first lengthy visit as president in 2013, after his re-election. Asian and European cities have hosted numerous summits for African leaders, ending with ceremonies to sign agreements worth billions of dollars.
Read more at The Economist »
—
Related:
First Lady Michelle Obama Speaks on Girls' Education at YALI Presidential Summit
Bill Clinton, Michael Bloomberg at Africa Summit
Meet the Mandela Washington Fellows From Ethiopia
Obama Renames Africa Young Leaders Program For Nelson Mandela
U.S.-AFRICA SUMMIT 2014: Preview
Transport Chiefs From Five Countries to Visit Chicago Ahead of U.S.-Africa Summit
Ambassador David Shinn on the 2014 U.S.-Africa Leaders Summit
Join the conversation on Twitter and Facebook.