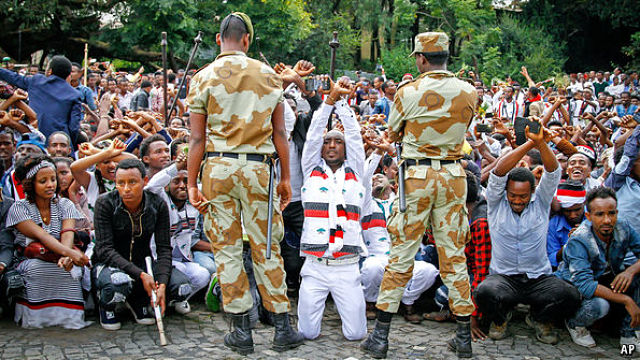 The Economist | From the print edition
IT WAS meant to have been a time for celebration. When on October 5th the Ethiopian government unveiled the country's new $3.4 billion railway line connecting the capital, Addis Ababa, to Djibouti, on the Red Sea, it was intended to be a shiny advertisement for the government's ambitious strategy for development and infrastructure: state-led, Chinese-backed, with a large dollop of public cash. But instead foreign dignitaries found themselves in a country on edge.
Just three days earlier, a stampede at a religious festival in Bishoftu, a town south of the capital, had resulted in at least 52 deaths. Mass protests followed. Opposition leaders blamed the fatalities on federal security forces that arrived to police anti-government demonstrations accompanying the event. Some called the incident a "massacre", claiming far higher numbers of dead than officials admitted. Unrest billowed across the country.
On October 8th, a week after the tragedy at Bishoftu, the ruling Ethiopian People's Revolutionary Democratic Front (EPRDF) announced a six-month state of emergency, the first of its kind since the former rebel movement seized power in 1991. The trigger was not clear: violent clashes between police and armed gangs, and attacks on foreign-owned companies, had been flaring across the country for several days (and have occurred sporadically for months) but seemed to have plateaued by the weekend. On October 4th an American woman was killed while travelling outside the capital. Protesters have blockaded several roads leading in and out.
One factor in the government's decision was a spate of attacks on holiday lodges at Lake Langano, and on Turkish textile factories in Sebeta, both in the restive Oromia region south of the capital, on October 5th. The attackers were well-organised and armed, some of them reportedly mounted on motorbikes. These acts, officials suggest, were the final straw.
The government is rattled by the prospect of capital flight. An American-owned flower farm recently pulled out, and it fears others may follow. After almost a week of silence, the state-of-emergency law was a belated attempt to reassure foreign investors, who have hitherto been impressed by the economy's rapid growth, that the government has security under control.
—
Related:
The Washington Post Editorial Regarding Ethiopia's State of Emergency
German's Angela Merkel Calls for Ethiopia to Open Up Politics After Unrest
Angela Merkel Signals Support for Ethiopia's Protesters in Visit (AP)
Ethiopia: Foreign Investors Warily Eye Crackdown – The Wall Street Journal
Ethiopia Put Under State of Emergency (AP)
In Ethiopia Protesters Attack Factories, Eco Lodge and Flower Farms
American Killed in Ethiopia Identified as UC Davis Researcher Sharon Gray
U.S. citizen killed, foreign factories attacked in Ethiopia
US Says Female American Citizen Killed in Ethiopia Amid Protest
After Ethiopia Irrecha Tragedy, Renewed Calls on U.S to Take Stronger Measure
Ethiopia Protests Continue Over Fatal Bishoftu Stampede at Irrecha Festival
Join the conversation on Twitter and Facebook.