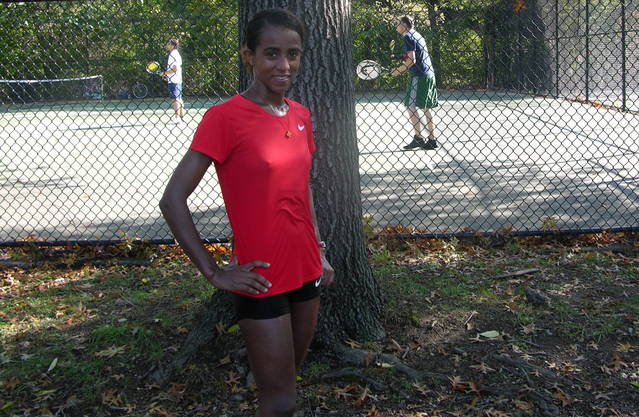 UPDATE: 2012 New York City Marathon Canceled
Tadias Magazine
By Jason Jett

Updated: Thursday, October 25, 2012
New York (TADIAS) – Having come so close to winning last year's New York City Marathon, finishing second by a mere four seconds, Buzunesh Deba will be chasing victory again in one of the world's greatest marathons which eluded her and instead was grasped by Ethiopian compatriot Firehiwot Dado a year ago.
Firehiwot, who pulled away from Buzunesh over the last 200 yards of the 26.2 miles event, will not defend her crown this year after withdrawing from the race last week with what her manager said was a foot injury.
This time around Buzunesh faces 2012 London Olympics marathon winner Tiki Galena and 2011 World Marathon Champion Edna Kiplagat of Kenya, among a deep elite international field.
This will be Buzunesh's fourth New York City Marathon; she finished seventh in 2009 and 10th in 2010. A resident of the Bronx, she will be a hometown favorite and she knows the course well.
She also knows most of her competition — both their faces and their paces. There is no awe or intimidation when she speaks of the other elite runners, only self-confidence and the conviction that if she runs as well as she is capable she will win.
"I believe I will win, it is my dream," said Buzunesh. "God will decide."
She trains diligently, some say maniacally, six days a week, but she says the seventh day she devotes to attending St. Mary of Zion Ethiopian Orthodox Tewahdo Church in Yonkers, New York. An Orthodox Christian, her bedroom is decked with illustrations of the Virgin Mary. And, born in the Asela region of Ethiopia, Buzunesh said: "When I am running, and I get tired, I call on God," she said. "That is my power."
Buzunesh has trod through some valleys since her podium finish a year ago in Central Park. She spent the winter training at altitude in Albuquerque, New Mexico. She was accompanied by her husband Worku Beyi, who is also her coach and manager. Their relocation was made easier by sharing living quarters and training schedules with friends Genna Tufa, Serkalem Abrha and Atalelech Asfaw — all among a group of Ethiopian runners who left New York for the benefits of living and training at high altitude.
Returning to New York in April, Buzunesh was poised to stake her claim at a World Marathon Majors championship by following her second-place finish in New York with a win at the Boston Marathon. (Top-finishers in the New York City, Boston, Chicago, London and Berlin marathons compete for the $500,000 prize awarded every two years.)
Training had gone well winter into spring leading up to Boston. However, after completing her final pre-marathon track workout just days before the race Buzunesh miss-stepped, turning an ankle, as she walked off the synthetic surface and onto the stadium infield.
Neither prayer nor treatment could chase away the pain in time for Buzunesh to compete in the Boston Marathon. Ultimately, she was not able to return to running until mid-summer. Unable to train, Buzunesh became a spectator of the sport as she followed the race results of her friends and rivals during sleepless nights.
"When I am training, I go to bed early," she said. "But when I could not run I would be up two and three o'clock in the morning on my computer."
Buzunesh finally resumed training in August, and competed for the first time this year at the Rock n' Roll Philadelphia Half Marathon on Sept. 16. She finished eighth, in a time of 1:14:54.
The result was mind-boggling to running experts, fellow competitors and even enthusiasts: Buzunesh had run 1:09:18 over the half-marathon distance in winning the 2011 Rock n' Roll San Diego Marathon in 2:23:31. Yet she ran five minutes slower over an equally fast Philadelphia course (Sharon Cherop of Kenya won the race in 1:07:19, followed by Mare Dibaba of Ethiopia in 1:07:44.).
Buzunesh was disappointed, of course. And Worku did a bit of head-scratching before reasoning it was simply a bad day.
"I don't know what happened," he said. "I saw her that day and she looked heavy."
"She was not able to run fast that day, but she had had only six weeks of training at the time," he added. "She will have had six more weeks before New York."
There are critics that doubt Buzunesh will be competitive this year, let alone win. They point to Philadelphia, and note that she has barely raced this year.
"Look at her Philadelphia Rock n' Roll results," said Hicham EL Mohtadi, an agent-manager of runners based in New York City including Ethiopian Mekides Bekele. "She had lots of time off from competing on a high level due to injury. She still is not at full-force. I don't see her being a factor in this year's marathon."
Mohtadi noted that despite these issues he is still rooting for Buzunesh. He added: "Though I'd love to see her win it because she's a dear friend and a lovely young lady."
Bill Staab, president of West Side Runners New York, which supports a large number of Ethiopian runners in the city, said Worku is the best barometer of Buzunesh's chances.
"Due to her foot injury last April and the fact that her time at the Rock n' Roll Philadelphia Half Marathon was not up to her PR (personal record), it is hard to judge her chances." he said. "But we all know Buzunesh trains with fervor."
Buzunesh's resilience has been further tested in recent weeks. Worku's father died in early October, and there were several days of mourning. The funeral in Ethiopia took her husband and coach away from their marathon training for several more days.
And then there are the stomach cramps that Buzunesh said contributed to her being unable to hold the lead after pulling Firehiwot Dado along in overtaking Mary Keitany of Kenya at the 25-mile mark last year in New York. Firehiwot would pass Buzunesh in the final mile, and Keitany finished third. (Keitany, who won the 2012 London Marathon and was fourth in the London Olympics marathon, is not competing this year in New York.).
"She gets cramps after some workouts," a concerned Worku said of his wife. "There is pain, and sometimes she throws up."
Buzunesh hopes the problem does not recur during the marathon. She knows from training runs of 24 miles in Central Park and 26 miles on the New York Greenway along the Hudson River that she can cover the marathon distance without such pain.
And, she has her own belief-system for support. Buzunesh radiates a confidence steeped in humility. She does not boast, or deride other runners; she simply believes in herself. It is a belief rooted in her faith, which she takes as much care recharging every Sunday as she does her body following training sessions other days of the week.
Having a husband who is a good cook helps when it comes to revitalizing the body. A training-table dinner last week in the Buzunesh and Worku's home, an apartment in Kingsbridge, consisted of a salad of green leaf, tomatoes, avocados, green peppers and oil-vinegar dressing, a vegetable medley of carrots, potatoes and broccoli, halved hard-boiled eggs and chunks of white-meat chicken.
While Buzunesh and Worku prefer traditional Ethiopian cuisine, or injera, they eschew it during training season in favor of lighter fare. Vitamin bottles and other supplements cover a tabletop in their home. Buzunesh noted she takes supplements when she remembers — indicating with her face and hands that often she does not. However, she is more reliant on the energy-electrolyte drinks that Worku prepares before and after workouts.
Buzunesh and Worku occasionally can be spotted running in Central Park or Riverside Park, but the bulk of work occurs at their favorite training site — Rockefeller State Park in Tarrytown, NY. Van Cortlandt Park, near their home, is their most-frequented site given its proximity.
They elected not to train at altitude for this marathon, having decided sufficient benefits can be gained simply through hard and smart training in New York. That belief has Buzunesh undaunted by Galena, Misikir Mekonnen and Kenyan runners coming directly from high altitude to compete in New York.
Hours after Buzunesh finished the 2011 New York City Marathon, reporters and photographers gathered around her and Worku following a news conference in the Mandarin Oriental Hotel at Columbus Circle. Hugging his wife, a beaming Worku held up his other hand leaving scant daylight between the thumb and index finger.
"She came this close," he said. "She made a little mistake. We will correct it for next year."
On Nov. 4, 2012 the couple will learn whether or not they were successful in making the necessary correction.
—-
Below are slideshow of photos taken during Buzunesh's morning training session on Saturday, October 20th, 2012.
–
Related:
Women's Champion Firehiwot Dado of Ethiopia Withdraws from NYC Marathon (AP)