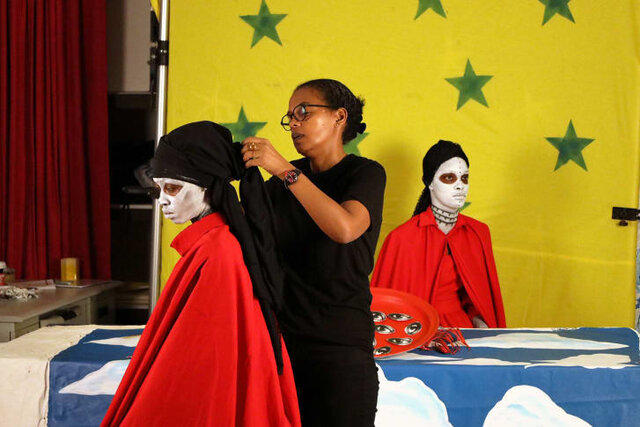 Tadias Magazine
Updated: March 20th, 2023
New York (TADIAS) — Aïda Muluneh's surreal photographs featuring African women with symbols of power, conflict, and history have taken over bus stops in New York City.
Her latest images, which include painted eye motifs and chairs, are part of a public exhibition called "Aïda Muluneh: This is where I am," commissioned by the New York City-based nonprofit Public Art Fund. The exhibition is on display at hundreds of bus stops in New York, Chicago, Boston, and Abidjan.
The primary symbol of the installation is the traditional Ethiopian coffee pot, or jebena, which the artist uses as a call for open dialogue in her birth country. Her enigmatic images aim to spark conversations and break the silence.
The exhibition, which runs through May, is displayed at over 330 bus stops. Below is a highlight from CNN's African Voices program:
The story behind this surreal portrait of Ethiopian identity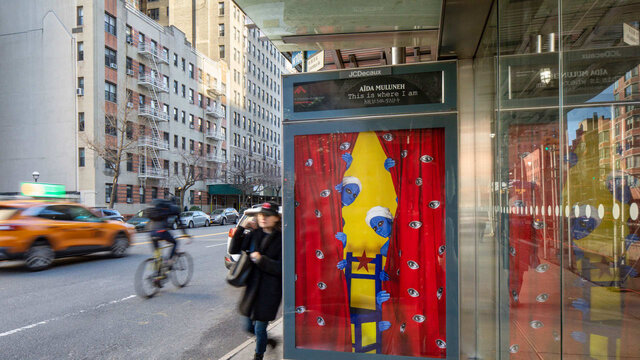 Photo: Nicholas Knight/Public Art Fund NY
Former photojournalist, Aïda Muluneh now creates images that pose questions, rather than offering answers.
Muluneh has spent years creating surrealist photographs of stately African women bearing symbols that reckon with conflict, history and power. Painted eye motifs — as well as her subjects' unflinching gaze — represent the need to bear witness, chairs represent seats of influence, and curtains pull back to show the stagecraft of politics.
Now, the Ethiopian artist's images have taken over hundreds of bus shelters in New York, Chicago, Boston and her current home of Abidjan, Ivory Coast, through the exhibition "Aïda Muluneh: This is where I am," commissioned by Public Art Fund, a New York City-based nonprofit.
Though Muluneh's work has already served as public art, including open-air exhibitions in Europe, "This is where I am" is her largest public installation to date.
—
Related:
Photos: Amref's ArtBall & Auction Honors Artist Julie Mehretu and Ethiopia's Youth
Culture: In NYC The Atlantic Catches up with Kelela at Benyam's in Harlem
Join the conversation on Twitter and Facebook.