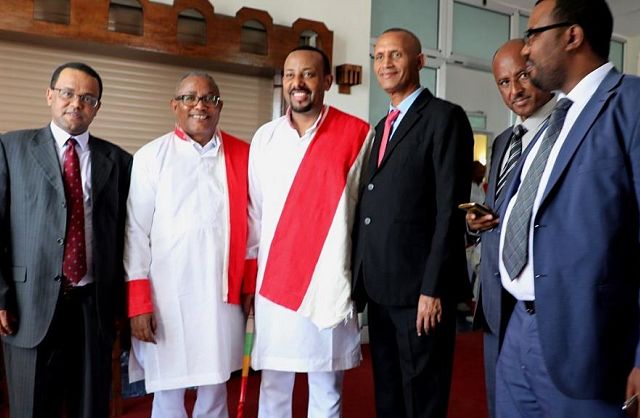 Updated: April 20th, 2018
Ethiopia Premier Abiy Ahmed on Friday morning arrived in the city of Gondar in the northern Amhara region. The trip forms part of his nationwide tour that started two weeks ago.
The state-affiliated FANA Broadcasting corporate (FBC) reported that Abiy was received by head of the region, Gedu Andargachew and other top officials of the state.
As part of his itinerary, he is expected to address residents at the Gondar stadium. "Today's meeting is parts of his plan to send messages of unity to the public across the country," the FBC report added.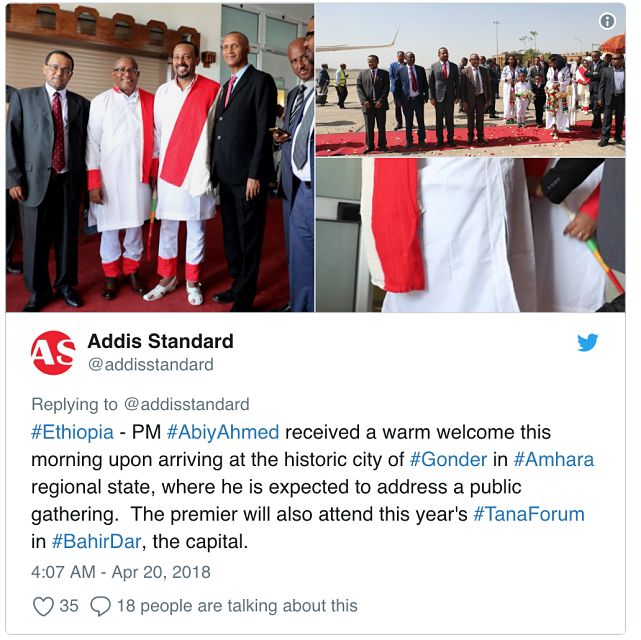 He will also deliver an address during the TANA Forum gathering to be held in Bahir Dar on Saturday.
—
Related:
PM Abiy Names Cabinet (Reuters)
Ethiopia: Prime Minister Sidelines Military On Development Project (Stratfor)
No Quick Fix to Ethiopia's Hard Currency Crisis, Says PM
Ethiopia Beats Ghana as Fastest-Growing Africa Economy for IMF (Bloomberg)
Ethiopia Ends Web Blackout, Raising Hopes of Reforms Under New PM (Reuters)
Ethiopia's New Leader Makes Rare Outreach to Opposition (AP)
In Ambo, Ethiopia PM Asks for Patience as He Seeks Change (AFP)
Ethiopia's new PM visits town that was center of anti-government protests (Reuters)
Ethiopia PM gets huge welcome in Ambo (Africa News)
US House Approves Ethiopia Resolution H. Res. 128 Amid Objection on Timing
In Ethiopia Internet Returns, Maekelawi Closed, PM Visits Jijiga on Peace Mission
Ethiopia Frees Re-Arrested Journalists (AP)
A Charismatic Young Leader Tries to Calm Ethnic Tension in Ethiopia
Herculean Task Awaits Abiy Ahmed on Human Rights in Ethiopia
Ethiopia's PM Abiy Delivers Hopeful Inauguration Speech (Video)
Ethiopia Swears in New Prime Minister (AP)
Ethiopia Seeks Calm With a New Leader (The New York Times)
Join the conversation on Twitter and Facebook.