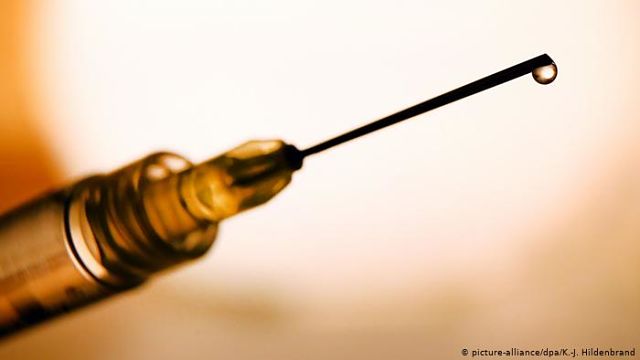 Germany to start first coronavirus vaccine trial
German Health Minister Jens Spahn has announced the first clinical trials of a coronavirus vaccine. The Paul Ehrlich Institute (PEI), the regulatory authority which helps develop and authorizes vaccines in Germany, has given the go-ahead for the first clinical trial of BNT162b1, a vaccine against the SARS-CoV-2 virus.
It was developed by cancer researcher and immunologist Ugur Sahin and his team at pharmaceutical company BioNTech, and is based on their prior research into cancer immunology. Sahin previously taught at the University of Mainz before becoming the CEO of BioNTech.
In a joint conference call on Wednesday with researchers from the Paul Ehrlich Institute, Sahin said BNT162b1 constitutes a so-called RNA vaccine. He explained that innocuous genetic information of the SARS-CoV-2 virus is transferred into human cells with the help of lipid nanoparticles, a non-viral gene delivery system. The cells then transform this genetic information into a protein, which should stimulate the body's immune reaction to the novel coronavrius.
Related:
Ethiopia Coronavirus Cases Hit 131 (LATEST UPDATE)
Webinar on COVID-19 and Mental Health: Interview with Dr. Seble Frehywot
COVID-19: Interview with Dr. Tsion Firew, Ethiopian Doctor on the Frontline in NYC
Ethiopia COVID-19 Response Team: Interview with Mike Endale
Ethio-American Tech Company PhantomALERT Offers Free App to Track & Map COVID-19 Outbreak
'Your Safety is Our Priority': How Ethiopian Airlines is Navigating the Global Virus Crisis
Inspiring Amharic Poetry: A Reflection by Shimelis Amare (YouTube)
Getting Through COVID 19: ECMAA Shares Resources With Ethiopian Community
Maryland Issues COVID-19 Fact Sheet in Amharic for Ethiopian Community
Art in the Time of Coronavirus: Guide to Virtual Exhibitions from Ethiopia to U.S.
We Need Seismic Change, Right Now: by Marcus Samuelsson
City Sleeps: A Look At The Empty NYC Streets Amid The Virus – In Pictures
Ethiopia enforces 14-day quarantine for all travelers
Diaspora-based Tech Professionals Launch Ethiopia COVID-19 Response Task Force
Amid COVID-19 Pandemic Hopeful & Inspiring Stories Shared by Obama
Pleas to Diaspora to Assist Coronavirus First Responders in Ethiopia
Coronavirus Sparks an Epidemic of People Helping People in Seattle
Join the conversation on Twitter and Facebook.