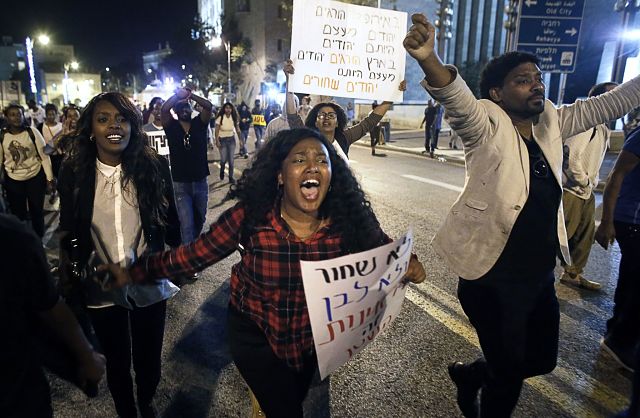 By Sarah Breger
On Monday, hundreds of demonstrators gathered in Tel Aviv to protest police brutality and discrimination against the Ethiopian-Israeli community. Two weeks ago, protests by Israel's Ethiopian minority against police brutality and discrimination in Jerusalem and Tel Aviv drew international attention.
While the protests were sparked by a video of an Ethiopian soldier in uniform being attacked by police officers, the demonstrations also signify the frustrations of the 135,000-Ethiopian Jews currently living in Israel toward the pervasive discrimination and continuing segregation from Israeli society. Since then Prime Minister Benjamin Netanyahu has announced the formation of a ministerial committee to investigate issues concerning Ethiopian Israelis.
The Sisterhood spoke with Dorit Roer-Strier, a professor at Hebrew University's School of Social Work, about the current protests and specific barriers Ethiopian women face.
—
Related:
Netanyahu, President Rivlin Show Strong Support to Ethiopian Jews in Israel
Ethiopian-Israelis Demand Ministerial Committees to Help Community
A Message from Tebeka – Legal Aid & Advocacy for Ethiopian Israelis (Press Release)
Soldier Becomes Unlikely Face of Ethiopian-Israeli Discontent (Video)
Ethiopian-Israeli Protest in Tel Aviv Turns Unusually Violent (Raw Video)
Israel's Ethiopians Protest in Jerusalem (The Associated Press)
Join the conversation on Twitter and Facebook.