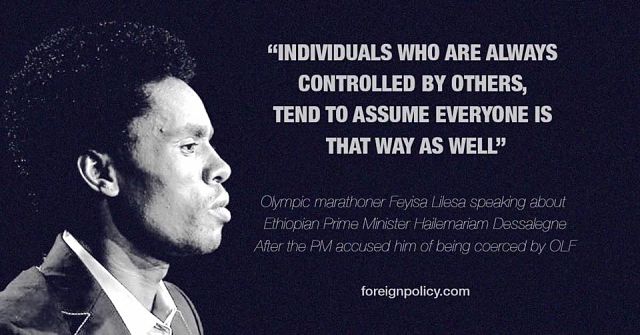 NEW YORK — Ethiopian Prime Minister Hailemariam Desalegn told Foreign Policy on Tuesday that when Olympic marathoner Feyisa Lilesa raised his arms in an "X" at the Summer Games in Rio, he wasn't protesting mistreatment of Ethiopia's Oromo population at the hands of government forces, but had instead been coerced into the protest by an armed secessionist group.
But in an email to Foreign Policy on Friday, Feyisa called Hailemariam's claims "baseless, completely false, and insulting." He totally dismissed the idea that any outsiders — including naturalized American citizens loyal to the anti-government Oromo Liberation Front — convinced him to protest as he crossed the finish line in second place.
"OLF did not tell me to speak out or be a voice for my people," Feyisa wrote. "My conscience made me do that. I spoke out because I wanted to expose the gross violation of human rights in Ethiopia."
Feyisa went on to say that his friend, Kebede Feyisa, "was shot and burned to death along with other prisoners in the Qilinto prison" in central Ethiopia this month. According to him, that friend was arrested during a peaceful protest and later killed by security forces. It's stories like his, Feyisa said, that inspired him to protest his government and then flee to the United States under the pretext that he would potentially risk his life by returning home.
Hailemariam told FP on Tuesday that he does not blame Feyisa for the protest because he strongly believes it was "orchestrated by someone else from outside," and pointed multiple times to the OLF and its sympathizers in the United States. He said that Feyisa will be safe and greeted like a hero if he chooses to return home.
But Toleeraa Adabaa, a spokesman for the OLF based in Eritrea, told FP in an email that Hailemariam lied about the secessionist group's involvement in Feyisa's protest because he preferred "to point his finger to OLF rather than solving the problems which are causes for the protest all over Ethiopia."
And Feyisa said in his email that it was "the Oromo people and friends of the Oromo, not the OLF, who facilitated my trip to the United States."
"Hailemariam's government has jailed and killed far too many people under the pretext of supporting the OLF," he said.
"I was not surprised by his comments because individuals who are always controlled by others tend to assume everyone is that way as well," he said. "Unlike the prime minister, I make my own decisions and speak for myself."
Read the full artcile at Foreign Policy Magazine »
—
Related:
Here is Why White House Must Continue to Speak Out on Ethiopia Crisis
U.S. Congressman Chris Smith Calls Out Ethiopia Rights Abuses
Olympic Hero Feyisa Lilesa Calls on US to Push for Human Rights in Ethiopia
Joint letter to UN Human Rights Council on Ethiopia
US Ambassador to UN on 'Excessive Use of Force' Against Ethiopia Protesters
Join the conversation on Twitter and Facebook.