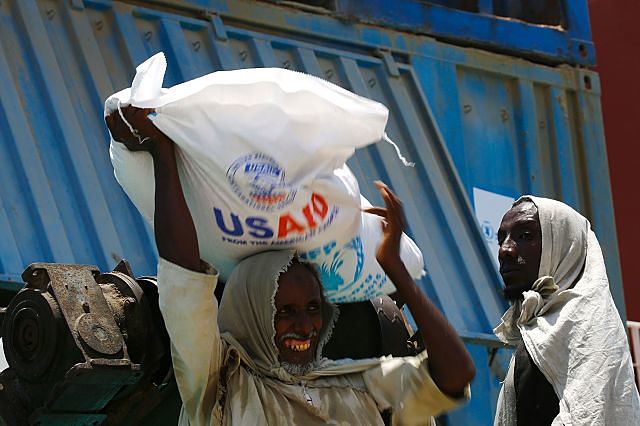 'America first' shouldn't mean cutting foreign aid
We have entered the era of "America first" with only a vague understanding of its meaning. President Trump's inaugural address signaled an ambitious nationalist reimagining of the post-World War II international order. Trump's foreign policy team, in contrast, seems to spring from that order. The resulting uncertainty is global and dangerous. Vacuums of leadership are not generally filled by the good guys.
The administration's policy shift is most evident so far in the areas of trade and refugees — Trump prefers less of both. Given a narrowed conception of national interest and the president's discomfort with the idea of "nation building," foreign assistance would seem a natural next target. Persistent rumors that the administration is mulling major cuts at the U.S. Agency for International Development (USAID) have heightened this speculation.
Although Trump hasn't spoken much on this topic, some of his comments have reflected an inclination to pull back…Yet Trump has also added notes of ambiguity. In August, he told the Miami Herald that Congress should increase funding to fight the Zika virus abroad. In September, he underlined the importance of ensuring clean water for everyone in the world. In October, he stated that "we're going to lead the way" on AIDS relief.
In this case, Trump's better angels would do more to serve the country than his budget-cutters. Putting foreign assistance on the chopping block would be a serious mistake, by any definition of the national interest.
***
Let's begin by getting the facts straight. Surveys have shown that many Americans assume the country spends upwards of 20 percent of the federal budget on foreign aid. In reality, nonmilitary foreign assistance — including all of America's work on international development and global health — represents less than 1 percent of the federal budget. Slashing this tiny category of discretionary spending for the sake of budget control would be a form of deception — a sideshow to avoid truly important (and unpopular) budgetary choices.
For less than 1 percent of the federal budget, the United States led a global coalition to fight HIV/AIDS when the disease threatened to devastate and destabilize much of the African continent . Battling another of the world's most lethal killers, malaria, U.S.-led global programs have saved more than 6 million lives, mainly children under 5 years old. America also led a global effort to support agriculture when the food, fuel and financial crisis of 2008 pushed nearly 100 million people back into a state of chronic hunger and extreme poverty. As of 2015, that effort had directly benefited nearly 19 million rural households and reached more than 12 million children with nutrition programs. And America led a global partnership to bring power to half a billion people in Africa who have too often lived, worked, studied and given birth in the dark.
—
Related:
Focus on Ethiopia: A Look at the New 'America First' Foreign Policy
Ethiopia: Looking Beyond Obama, Here is What Trump's Team is Asking
U.S.-Africa Policy in 2017: What Trump Should Do
Ethiopia: US-Africa Relations in Trump Era
Join the conversation on Twitter and Facebook.