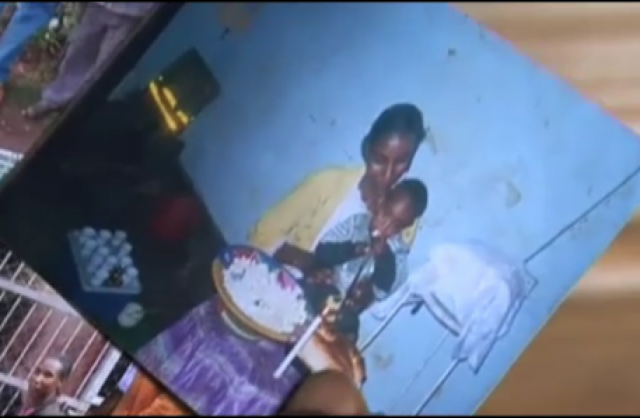 Lemesa Ejeta sniffed and cleared his throat but could not stop a tear from slipping down his cheek. His four-year-old daughter, Yabesira, had just run out of their mud-and-straw house to play, and it was as if he felt he could at last let go.
He struggled to describe the last time he saw his partner, Alem Dechasa Desisa, the 33-year-old mother of Yabesira and Tesfaye, 12. Alem left Ethiopia in January to work as a maid in Lebanon; she apparently hanged herself in a hospital room after she was beaten on a street in Beirut, allegedly by a man linked to the recruiting agency that took her there.
Alem's journey to a lonely death started in this one-room hut in Burayu, a bereft settlement outside Addis Ababa where mothers like her and fathers like Lemesa face a Herculean struggle to survive each day.
Alem was one of many women who defied an Ethiopian government ban to work as housemaids in Lebanon, hoping to make life better for their children. It was a heartbreaking choice to have to make.
Video: The Guardian report from Burayu, Ethiopia

—
Related:
Update: When Suicide is the Only Escape (Al Jazeera English)
Lebanon's ways are sponsoring suicide (The Daily Star)
UN urges Lebanon to investigate Ethiopian maid's death (BBC)
Housemaid's Suicide Rattles Lebanon's Conscience (Reuters via Chicago Tribune)

The recent videotaped abuse and death of an Ethiopian woman (mother of two Alem Dechassa, 33) has rattled Lebanon's conscience. Photo by Jamal Saidi, REUTERS / April 4, 2012.

BEIRUT (Reuters) – Tragic tales of domestic worker abuse in Lebanon are common, but a film showing an Ethiopian maid dragged along a street in Beirut just days before she was found hanged from her bed sheets has rattled Lebanon's conscience.
The domestic worker industry in Lebanon is vast – foreign maids account for more than five percent of the population – and the sector is plagued by archaic labor laws, inhumane practices and dire wages.
Read more.
—
Ethiopians in Lebanon Protest their Consulate's Apathy, Callousness (The Daily Star)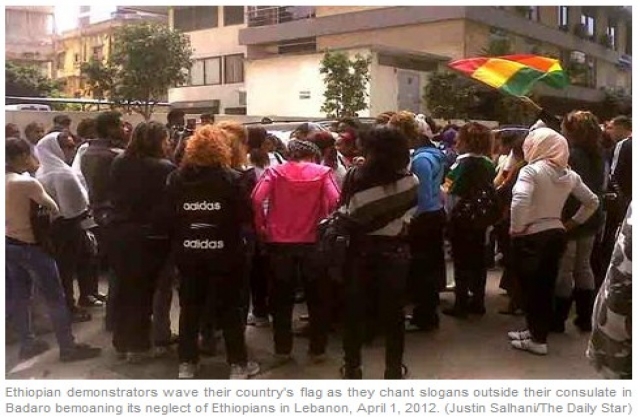 By Justin Salhani
BEIRUT: A crowd of Ethiopians gathered outside the Ethiopian Consulate in Badaro Sunday afternoon to protest its neglect of their community in Lebanon.
Following a Sunday church service nearby, a few dozen women and one man walked to the consulate and demonstrated outside.
The assembled expressed their frustration with consular officials' perceived callousness, saying that when Ethiopians contact their consulate in Lebanon via telephone they are often ignored or hung up on.
"We are living here," said a woman named Berti, adding that "the [consulate] should help us, but they only want money."
Another woman, named Sarah, told The Daily Star that many Ethiopians travel to Lebanon illegally through Sudan. She said that if such an Ethiopian encounters trouble in Lebanon, the consulate will absolve itself of responsibility and refuse assistance, but if the same person should want to renew her passport, the consulate would help in the interest of making a profit.
The Ethiopian Consulate was unavailable for comment.
Ali Mahfouz Charged with Contributing to the Death of Alem Dechasa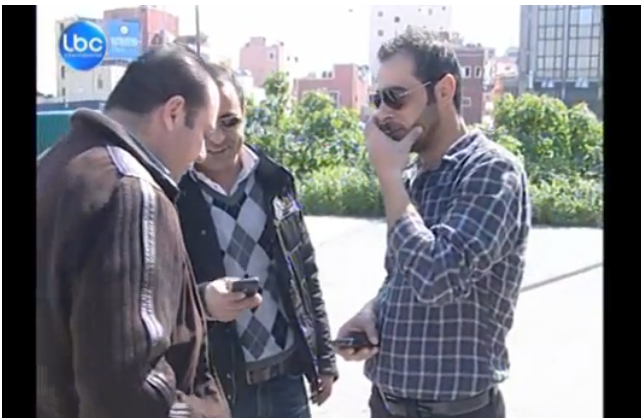 In this YouTube video grab taken from the Lebanese Broadcasting Corporation International, Ali Mahfouz, right, speaks to LBCI reporters. The video became public on March 8, 2012.
(LBCI)
March 23, 2012
BEIRUT: Beirut's general prosecutor has charged Ali Mahfouz with contributing to and causing the suicide of Alem Dechasa-Desisa, the Ethiopian domestic worker who committed suicide after a widely publicized beating outsider her consulate.
A judicial source told The Daily Star that Mahfouz was charged Thursday, adding that he is not currently in custody.
Read more at the The Daily Star.
—
Ethiopia's consul general in Lebanon says I have learned a 'big lesson' (The Daily Star)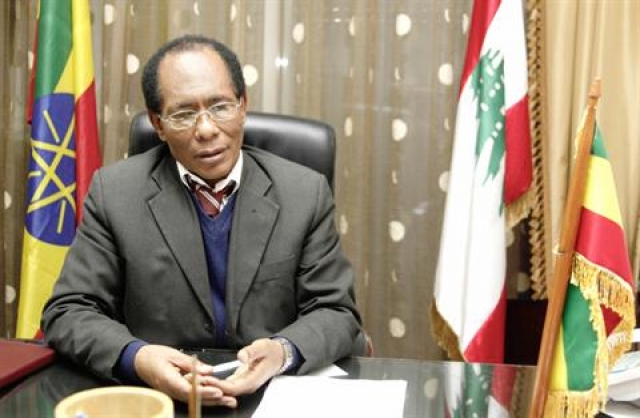 Ethiopia's consul general in Lebanon, Asaminew Debelie Bonssa, said he has learned from the abuse and death of Alem Dechasa-Desisa, but he believes the problems of Ethiopian domestic workers in the country would best be solved by legalizing their labor. (Read more at The Daily Star)
By Annie Slemrod
March 24, 2012 01:51 AM
Speaking to The Daily Star from the office from where he heard Dechasa-Desisa's screams over a month ago, Bonssa maintained Friday that the type of violence she was subjected to is uncommon at the consulate.
In an incident outside the consulate that was caught on film and publicized by a local television station two weeks later, Dechasa-Desisa was dragged and forced into a car by a man, later identified as Ali Mahfouz. Bonssa said an intervention by consular officials was not included in the clip, and that she was immediately taken by police to Pyschiatrique de la Croix Hospital, known as Deir al-Salib. Doctors told him she hanged herself there on March 14, using strips of her bed sheets. Read more.
–
Related:
Ethiopia Seeks Full Investigation Into Alem Dechassa's Death (The Guardian)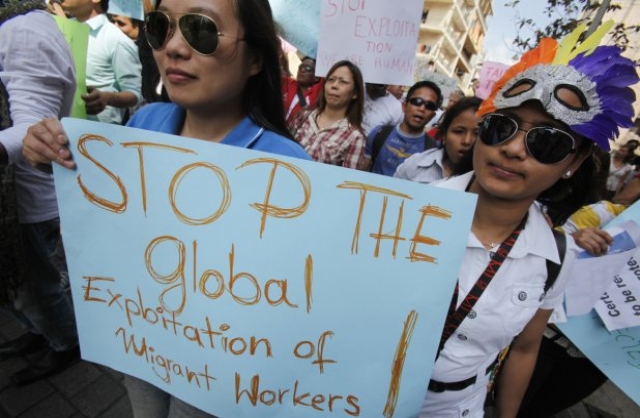 Lebanon is the most popular destination for Ethiopian domestic workers in the Middle East but reports of abuse against Ethiopian domestic workers have grown worse as it grows in frequency. (Read more at the The Daily Maverick, South Africa)
By Rachel Stevenson
Beirut – Ethiopia is lobbying Lebanon to investigate fully the death of an Ethiopian housemaid who killed herself after being beaten on the street in Beirut.
Video footage of Alem Dechasa being attacked outside the Ethiopian consulate in Beirut was broadcast on Lebanese television two weeks ago, causing outrage in the country about the mistreatment of the thousands of migrant workers in the country.
Read more at the Guardian.
—
Related:
Ethiopians in Toronto Hold Vigil for Alem Dechassa (Sway Magazine)
In Memory of Alem Dechassa: Reporting & Mapping Domestic Migrant Worker Abuse (TADIAS)
Lebanon cannot be 'civilised' while domestic workers are abused (The Guardian)
Petition to Stop the Abuse of Migrant Domestic Workers in Lebanon (Change.org)
Photos: Vigil for Alem Dechassa Outside Lebanon Embassy in D.C. (TADIAS)
Ethiopia Sues Lebanese Man Over Beating of Domestic Worker (The Daily Star)
Ethiopian Abused in Lebanon Said to Have Committed Suicide (The New York Times)
In Lebanon Abuse Video of Ethiopian Domestic Worker Surfaces (TADIAS)
Below is a slideshow from the vigil for Alem Dechassa in Washington D.C. on March 15, 2012.