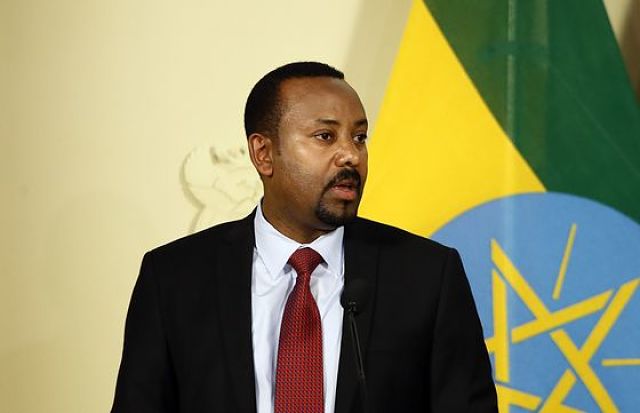 By Samuel Gebre
Ethiopia Says Elections Unlikely to Happen Before April
Ethiopia said it's unlikely to hold elections before April due to logistical and budgetary constraints caused by the coronavirus outbreak.The electoral board, in a document on its Facebook account, outlined two scenarios, saying it will need either 10 months or 13 months to organize the vote, which was initially scheduled for August 29.
The highly anticipated election is seen as a test of the popularity of Prime Minister Abiy Ahmed, who rose to power almost two years ago following the resignation of Hailemariam Desalegn.
The board estimates that more than 50 million people in Africa's second-most populous nation will vote, requiring 50,000 polling stations and 250,000 election officials. Earlier this month, Parliament voted to assess the constitution and establish how the government can avert potential instability caused by the delay.
—
Related:
COVID-19 & Elections: Media Round-up From Ethiopia & U.S.
Ethiopia Coronavirus Cases Jump to 494 (LATEST UPDATE)
Spotlight: Ethiopia's First Private Ambulance System Tebita Adds Services Addressing COVID19
COVID-19 and Its Impact on African Economies: Q&A with Prof. Lemma Senbet
Webinar on COVID-19 and Mental Health: Interview with Dr. Seble Frehywot
COVID-19: Interview with Dr. Tsion Firew, Ethiopian Doctor on the Frontline in NYC
Ethiopia COVID-19 Response Team: Interview with Mike Endale
Ethio-American Tech Company PhantomALERT Offers Free App to Track & Map COVID-19 Outbreak
'Your Safety is Our Priority': How Ethiopian Airlines is Navigating the Global Virus Crisis
Inspiring Amharic Poetry: A Reflection by Shimelis Amare (YouTube)
Getting Through COVID 19: ECMAA Shares Resources With Ethiopian Community
Maryland Issues COVID-19 Fact Sheet in Amharic for Ethiopian Community
Art in the Time of Coronavirus: Guide to Virtual Exhibitions from Ethiopia to U.S.
We Need Seismic Change, Right Now: by Marcus Samuelsson
City Sleeps: A Look At The Empty NYC Streets Amid The Virus – In Pictures
Ethiopia enforces 14-day quarantine for all travelers
Diaspora-based Tech Professionals Launch Ethiopia COVID-19 Response Task Force
Amid COVID-19 Pandemic Hopeful & Inspiring Stories Shared by Obama
Pleas to Diaspora to Assist Coronavirus First Responders in Ethiopia
Coronavirus Sparks an Epidemic of People Helping People in Seattle
Join the conversation on Twitter and Facebook.