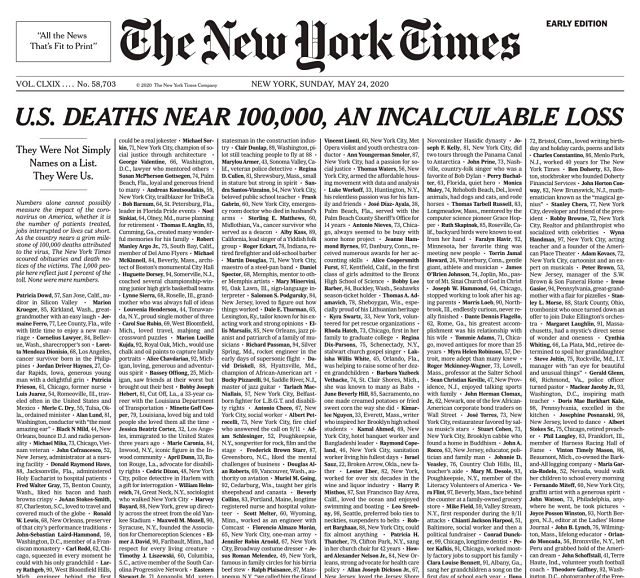 The Guardian
'Incalculable loss': New York Times covers front page with Covid-19 death notices
As the US approaches the grim milestone of 100,000 coronavirus deaths, the New York Times has filled the entire front page of Sunday's paper with the death notices of victims from across the country.
In a decision the paper said was intended to convey the vastness and variety of the tragedy, the front page is a simple list of names and personal details taken from obituaries around the US.
The headline is "US deaths near 100,000, an incalculable loss", with a sub-heading that reads: "They were not simply names on a list. They were us."
The entire list, which continues inside, numbers nearly 1,000 names – a fraction of the total loss of life in the US during the outbreak so far.
The US death toll stands at more than 97,000, according to the Johns Hopkins University tracker, by far the highest in the world, and the Times said it had been considering how to mark expected milestone of 100,000 deaths.
—
Related:
U.S. Deaths Near 100,000, an Incalculable Loss. (The New York Times)
Ethiopia Coronavirus Cases Soar to 655
Spotlight: Ethiopia's First Private Ambulance System Tebita Adds Services Addressing COVID19
COVID-19 and Its Impact on African Economies: Q&A with Prof. Lemma Senbet
Webinar on COVID-19 and Mental Health: Interview with Dr. Seble Frehywot
COVID-19: Interview with Dr. Tsion Firew, Ethiopian Doctor on the Frontline in NYC
Ethiopia COVID-19 Response Team: Interview with Mike Endale
Ethio-American Tech Company PhantomALERT Offers Free App to Track & Map COVID-19 Outbreak
'Your Safety is Our Priority': How Ethiopian Airlines is Navigating the Global Virus Crisis
Inspiring Amharic Poetry: A Reflection by Shimelis Amare (YouTube)
Getting Through COVID 19: ECMAA Shares Resources With Ethiopian Community
Maryland Issues COVID-19 Fact Sheet in Amharic for Ethiopian Community
Art in the Time of Coronavirus: Guide to Virtual Exhibitions from Ethiopia to U.S.
We Need Seismic Change, Right Now: by Marcus Samuelsson
City Sleeps: A Look At The Empty NYC Streets Amid The Virus – In Pictures
Ethiopia enforces 14-day quarantine for all travelers
Diaspora-based Tech Professionals Launch Ethiopia COVID-19 Response Task Force
Amid COVID-19 Pandemic Hopeful & Inspiring Stories Shared by Obama
Pleas to Diaspora to Assist Coronavirus First Responders in Ethiopia
Coronavirus Sparks an Epidemic of People Helping People in Seattle
Join the conversation on Twitter and Facebook.