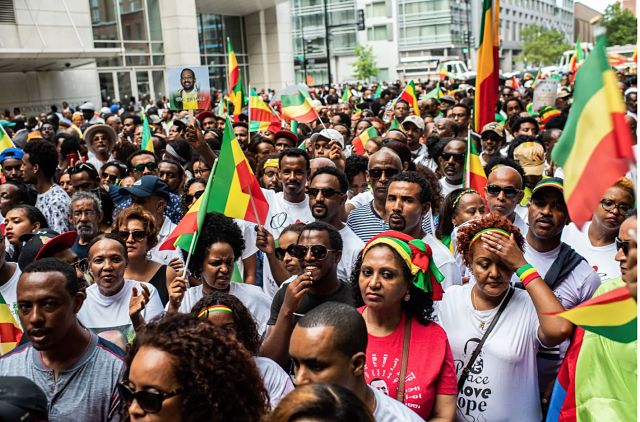 'He's a hugger . . . so I want to hug him': Ethiopian exiles greet new prime minister
Hulgize Kassa, a 52-year-old from Raleigh, N.C., earned his spot at the front of the line.
The father of two camped outside Walter E. Washington Convention Center starting at midnight Friday, watching as Ethiopians from as far as Colorado and Texas arrived with boxes of food, speakers and selfie sticks. By 7  a.m. Saturday, thousands had gathered in the streets spanning Mount Vernon Place to N Street, honking car horns and sharing food. Most wore T-shirts emblazoned with the face of their homeland's newly minted prime minister, Abiy Ahmed.
In the three months since his rise to power, the 41-year-old politician has introduced sweeping changes to Ethiopia, lifting a state of emergency, brokering peace with neighboring Eritrea and releasing hundreds of political prisoners. These dramatic steps toward liberalization have sparked "Abiy-mania" within the Ethiopian diaspora in the United States, which, for decades, stood among the fiercest critics of the ruling party's autocratic regime.
Abiy is in the United States to visit and speak to members of the diaspora. The Washington area is home to some 300,000 Ethiopians, making it the largest community outside the African country.
"I want to hug him. He's a hugger, I know, so I want to hug him," said Kassa, a researcher at North Carolina State University. When Kassa first came to the United States in 2000, he never thought he would go back to his homeland. But Abiy's ascension has changed his mind, he said. He plans to visit his home in the Amhara region next year, and bring his children, 12 and 14, with him.
Abede Yimenu, a former major in the Ethiopian army, said he is also thinking of going home after having been away for 17 years.
—
Related:
In LA, PM Abiy Ahmed to Address Ethiopian Diaspora Conference at USC
Video & Images: PM Abiy Engages Diaspora Business Community & Political Orgs in DC
DC Mayor Proclaims July 28th Ethiopia Day, Will Join PM Abiy at Convention Center
First Photos of PM Abiy Meeting With Ethiopian Diaspora in U.S.
Update on PM Abiy's Visit to U.S.
A Diaspora Trust Fund for Ethiopia and Embracing a Culture of Democracy (Editorial)
Images: Washington DC Rally to Support Ethiopia's New PM Dr. Abiy Ahmed
Join the conversation on Twitter and Facebook.