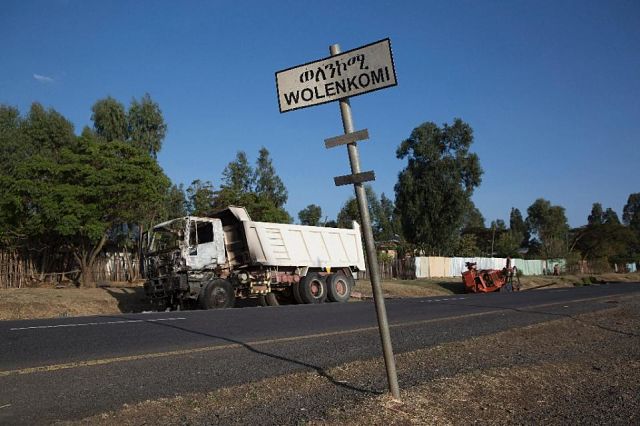 December 22, 2015
Nairobi -The Committee to Protect Journalists calls on authorities in Ethiopia to release news anchor Fikadu Mirkana. Fikadu, who works for the state-run broadcaster Oromia Radio and TV, was arrested at his Addis Ababa home on Saturday morning, according to news reports.
CPJ could not determine the reason for Fikadu's arrest. It comes as Oromia Radio and TV has, in recent weeks, covered protests against a plan to expand the Ethiopian capital, in a move that campaigners say would displace hundreds of thousands of farmers, according to news reports. Dozens of protesters have been killed during clashes with police during the unrest in the regional state of Oromia, according to a Human Rights Watch report.
"Journalists have a vital role to play in ensuring the flow of information, both from the Ethiopian government and also, critically, from those who will be affected by its decisions," said CPJ Africa Program Coordinator Sue Valentine in New York. "We call on authorities to release Fikadu Mirkana immediately."
It is not clear where Fikadu is being held and neither his family nor his lawyers have been allowed access to him, an Addis Ababa-based journalist, who has spoken with Fikadu's family and who requested anonymity for fear of retribution, told CPJ.
The Ethiopian authorities in Addis Ababa and the Ethiopian embassy in Nairobi did not immediately respond to CPJ's request for details about Fikadu's arrest.
—
Related:
U.S. State Department, Human Rights Organizations Address Crackdown on Protestors in Ethiopia
Crackdown Turns Deadly In Ethiopia As Government Turns Against Protesters (NPR)
US Concerned About Protester Deaths in Ethiopia (VOA)
At least 75 killed in Ethiopia protests: HRW (AFP)
'Unprecedented' Protests in Ethiopia Against Capital Expansion Plan (VOA News)
Ethiopians on Edge as Infrastructure Plan Stirs Protests (The New York Times)
Opposition: More Than 40 Killed in Ethiopia Protests (VOA News)
Violent clashes in Ethiopia over 'master plan' to expand Addis (The Guardian)
Protests in Ethiopia leave at least five dead, possibly many more (Reuters)
Why Are Students in Ethiopia Protesting Against a Capital City Expansion Plan? (Global Voices)
Yet Again, a Bloody Crackdown on Protesters in Ethiopia (Human Rights Watch)
Anger Over 'Violent Crackdown' at Protest in Oromia, Ethiopia (BBC Video)
Ethiopian mother's anger at murdered son in student protests (BBC News)
Minnesota Senate Condemns Recent Violence in Ethiopia's Oromia State
The Brutal Crackdown on Ethiopia Protesters (Human Rights Watch)
Deadly Ethiopia Protest: At Least 17 Ambo Students Killed in Oromia State (VOA)
Ethiopia protest: Ambo students killed in Oromia state (BBC)
Students killed in violent confrontations with police in Ethiopia's largest state (AP)
Ethiopia: Oromia State Clashes Leave At Least 11 Students Dead (International Business Times)
Ethiopia: Discussing Ethnic Politics in Social Media (TADIAS)
Join the conversation on Twitter and Facebook.