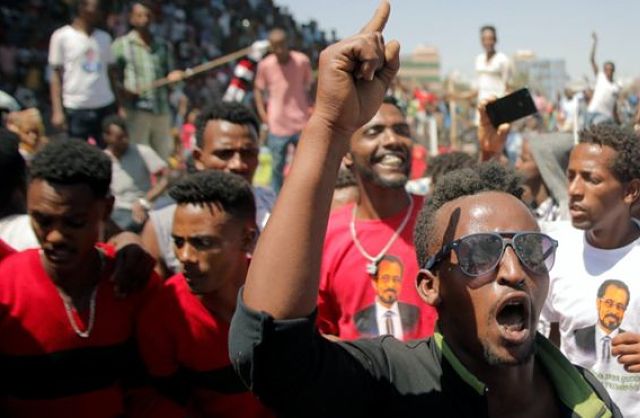 Updated: February 17, 2018
Ethiopia says state of emergency will last six months
ADDIS ABABA – A state of emergency imposed in Ethiopia a day after the prime minister resigned will last for six months, the defence minister said on Saturday, as authorities sought to tamp down unrest in Africa's second most populous nation.
Outbreaks of violence had continued in parts of the country and the government was banning protests, along with the preparation and dissemination of publications "that could incite and sow discord", Siraj Fegessa told journalists.
"The government has previously made several efforts to curtail violence, but lives have continued to be lost, many have been displaced and economic infrastructure has been damaged."
Further measures would be announced later in the day, he said.
Prime Minister Hailemariam Desalegn announced his surprise resignation in a televised speech on Thursday, the first time in modern Ethiopian history that a sitting prime minister had quit. He said he wanted to smooth the way for reforms.
A day later, the government imposed the state of emergency. Parliament – where the four-party ruling coalition controls all 547 seats – is expected to ratify it within two weeks.
Ethiopia is East Africa's biggest and fastest-growing economy and a Western ally in the fight against Islamist militancy. But rights groups have often criticised the government for clamping down on political opponents and the media.
Since January, Ethiopia has released more than 6,000 prisoners charged with taking part in mass protests and, in some cases, offences against the state. It has also closed down a jail where activists alleged torture took place.
—
Related:
Ethiopia: Seize the Moment (Editorial)
PM Hailemariam Desalegn Resigns (Reuters)
UPDATE: Eskinder Nega & Woubshet Taye Released From Prison
Ethiopia drops charges against Zone 9 bloggers
Bekele Gerba Freed Amid Protests
Signs of Hopeful Debate Emerge Online as Ethiopia Grapples with Future
Ethiopia's Crisis of Ethnic Politics Taking Toll on Poor People
Ethiopia: 2,300 More Prisoners Pardoned
Interview: Merera Gudina Calls for Dialogue (AFP)
Ethiopia: Is This the Start of Reforms or Just a Pause in Repression? (The Economist)
Ethiopia: Media Roundup of Reactions to Announced Release of Political Prisoners
Join the conversation on Twitter and Facebook.