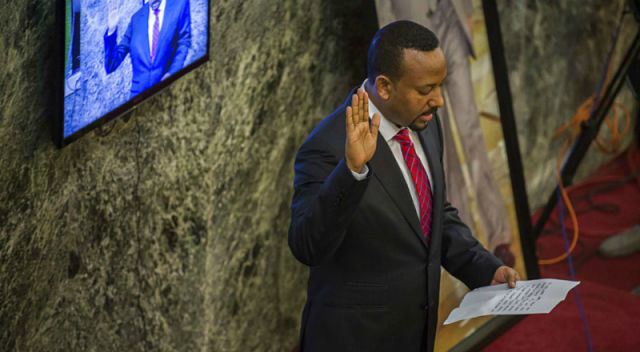 Fixing Ethiopia Requires More Than a New Prime Minister
Ethiopia's current State of Emergency, implemented on February 16 after Prime Minister Hailemariam Desalign stepped down from power, is the second time since October 2016 that the government has declared martial law. According to Human Rights Watch, "some of Ethiopia's staunch Western allies, fearful of what a destabilized Ethiopia would mean for their interests, have spoken openly of their concerns and urged a change in tactics." What these allies fail to appreciate is that these tactics are not a bug in the system of governance in Ethiopia—they are a feature. The Ethiopian People's Revolutionary Democratic Front (EPRDF), the hegemonic party that's been in power since 1991, has tightly controlled the country's political system, stifling civil society and criminalizing dissent. The selection of Abiy Ahmed as prime minister—marking the first time in 27 years that the EPRDF has had an Oromo has occupied the office, despite the fact that the Oromo is the country's largest ethnic group—is insufficient to stabilize the country.
Michael O'Hanlon, the co-director of the Brookings Institution's Center for 21st Century Security and Intelligence, has described the country as "one of the most important countries on the continent by almost any measure." The measure most pressing for U.S. interests, however, is the country's role as a strategic regional counterterrorism partner. Ethiopia's contributions to AMISOM, in particular, have endeared it to the U.S. national security community. Terrence Lyons, a professor at the School of Conflict Analysis and Resolution at George Mason University, considers the country an "irreplaceable center of gravity" for the Horn of Africa. As a long-standing U.S. partner in counterterrorism operations in the Horn of Africa, the effects of Ethiopia's stability extends well beyond the country's borders. Without legislative overhauls that promote democratic accountability, the country will continue to be beset by instability. Unfortunately, the country's history suggests that the party will respond to the current crisis with more repression…
—
Related:
PM Abiy Visits Gondar & Bahir Dar as Part of National Tour
PM Abiy Names Cabinet (Reuters)
Ethiopia: Prime Minister Sidelines Military On Development Project (Stratfor)
No Quick Fix to Ethiopia's Hard Currency Crisis, Says PM
Ethiopia Beats Ghana as Fastest-Growing Africa Economy for IMF (Bloomberg)
Ethiopia Ends Web Blackout, Raising Hopes of Reforms Under New PM (Reuters)
Ethiopia's New Leader Makes Rare Outreach to Opposition (AP)
In Ambo, Ethiopia PM Asks for Patience as He Seeks Change (AFP)
Ethiopia's new PM visits town that was center of anti-government protests (Reuters)
Ethiopia PM gets huge welcome in Ambo (Africa News)
US House Approves Ethiopia Resolution H. Res. 128 Amid Objection on Timing
In Ethiopia Internet Returns, Maekelawi Closed, PM Visits Jijiga on Peace Mission
Ethiopia Frees Re-Arrested Journalists (AP)
A Charismatic Young Leader Tries to Calm Ethnic Tension in Ethiopia
Herculean Task Awaits Abiy Ahmed on Human Rights in Ethiopia
Ethiopia's PM Abiy Delivers Hopeful Inauguration Speech (Video)
Ethiopia Swears in New Prime Minister (AP)
Ethiopia Seeks Calm With a New Leader (The New York Times)
Join the conversation on Twitter and Facebook.