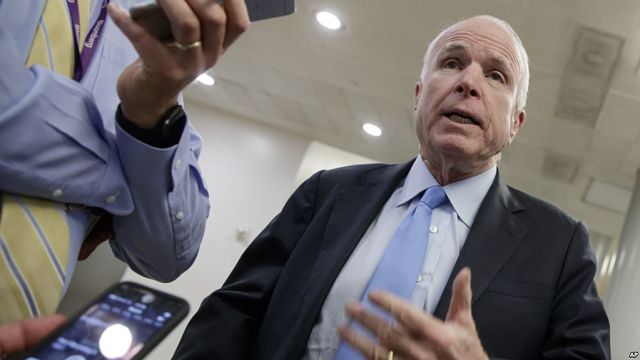 Senator McCain Blasts Trump on Lack of Human Rights Focus
U.S. Senator John McCain is criticizing the foreign policy of the Trump administration, saying it is not focused enough on human rights abuses around the world.
In an op-ed article for the New York Times, the Republican senator said the United States has an obligation to speak out for human rights as a country that was created from "an ideal that liberty is the inalienable right of mankind."
He criticized recent comments made by Secretary of State Rex Tillerson who said conditioning U.S. foreign policy too heavily on values creates obstacles to advance U.S. national interests.
"With those words, Secretary Tillerson sent a message to oppressed people everywhere: Don't look to the United States for hope … We make policy to serve our interests, which are not related to our values," McCain wrote.
McCain said some will credit Tillerson's point of view with realism, but he said "if by realism they mean policy that is rooted in the world as it is, not as we wish it to be, they couldn't be more wrong." He said it is foolish to view realism and idealism as incompatible. McCain said the demand by people for human rights is reality, and said that by denying them these rights, we "invite their enduring resentment."
"To view foreign policy as simply transactional is more dangerous than its proponents realize," he wrote. "Our values are our greatest strength and treasure."
McCain, a Republican senator from Arizona, has criticized the Trump administration on a range of issues, including the president's immigration orders and wish to have better relations with Russia. McCain has also sparred with the president about comments he made on the possible legality of torture and gave only a lukewarm endorsement of Tillerson during his confirmation process.
—
Related:
John McCain: Why We Must Support Human Rights (NYT)
Donald Trump's dangerous flattery of foreign dictators shows how little he cares about human rights
How Trump's Uncertainty on Africa Could be China's Gain
George W. Bush: PEPFAR Saves Millions of Lives in Africa. Keep it Fully Funded.
Ethiopia: U.S. Secretary of State Rex Tillerson Misses Annual Human Rights Presentation
Debating Pros & Cons of US Foreign Aid
Focus on Ethiopia: A Look at the New 'America First' Foreign Policy
Ethiopia: Looking Beyond Obama, Here is What Trump's Team is Asking
U.S.-Africa Policy in 2017: What Trump Should Do
Ethiopia: US-Africa Relations in Trump Era
Join the conversation on Twitter and Facebook.