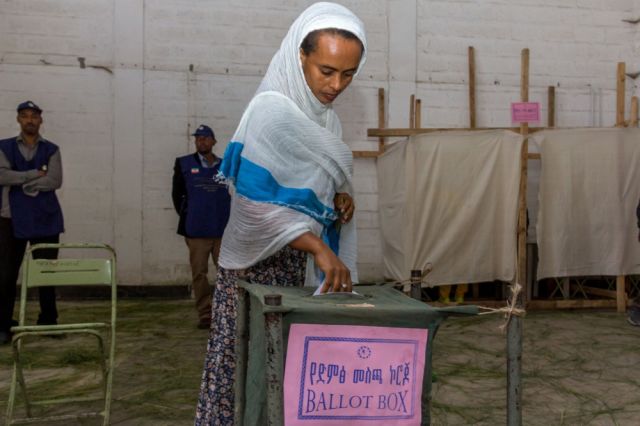 By Elias Meseret 
ADDIS ABABA, Ethiopia — Ethiopia's defense minister on Saturday ruled out a military takeover a day after the East African nation declared a new state of emergency amid the worst anti-government protests in a quarter-century.
The United States said it "strongly disagrees" with the new declaration that effectively bans protests, with a U.S. Embassy statement saying the answer to Ethiopia's sometimes violent unrest is "greater freedom, not less."
The state of emergency will last for six months with a possible four-month extension, similar to one lifted in August, Defense Minister Siraj Fegessa said.
He also ruled out a transitional government. Prime Minister Hailemariam Desalegn remains in the post for now after making the surprise announcement Thursday that he had submitted a resignation letter to help planned political reforms in one of Africa's best-performing economies succeed.
The state of emergency will be presented for lawmakers' approval within 15 days, Siraj said. Security forces have been instructed to take "measures" against those disturbing the country's functioning, with a new special court established to try them.
Ethiopia's cabinet on Friday cited deaths, ethnic attacks and mass displacement as reasons for the latest state of emergency. The announcement followed crippling protests in towns across the restive Oromia region on Monday and Tuesday that called for the release of political prisoners and urged the government to carry out rapid reforms.
Similar protests have taken place across Ethiopia since late 2015, leading the government to declare a state of emergency in October 2016 after hundreds of people reportedly had been killed. A stampede at a religious event southeast of the capital, Addis Ababa, that month claimed the lives of several dozen people.
That state of emergency led to the arrest of more than 22,000 people and severely affected business.
—
Related:
U.S. Urges Ethiopia to Reconsider State of Emergency
UPDATE: Ethiopia Says State of Emergency Will Last Six Months
Ethiopia: Seize the Moment (Editorial)
PM Hailemariam Desalegn Resigns (Reuters)
UPDATE: Eskinder Nega & Woubshet Taye Released From Prison
Ethiopia drops charges against Zone 9 bloggers
Bekele Gerba Freed Amid Protests
Signs of Hopeful Debate Emerge Online as Ethiopia Grapples with Future
Ethiopia's Crisis of Ethnic Politics Taking Toll on Poor People
Ethiopia: 2,300 More Prisoners Pardoned
Interview: Merera Gudina Calls for Dialogue (AFP)
Ethiopia: Is This the Start of Reforms or Just a Pause in Repression? (The Economist)
Ethiopia: Media Roundup of Reactions to Announced Release of Political Prisoners
Join the conversation on Twitter and Facebook.