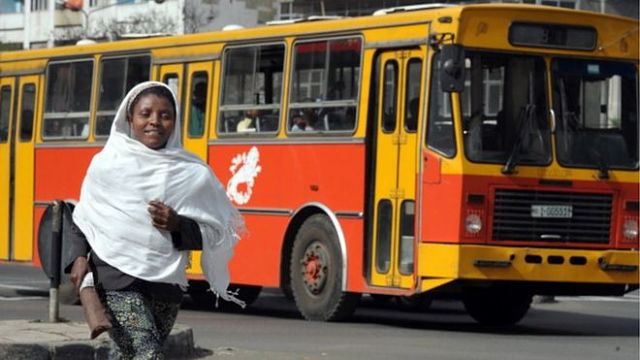 Why has Ethiopia imposed a state of emergency?
Ethiopia, the second most populous country in Africa and one which has seen a booming economy recently, has been shaken up in the past week.
First Prime Minister Hailemariam Desalegn unexpectedly resigned after five years in power.
Then a national state of emergency was declared the next day.
A statement by the state broadcaster said the move was necessary to stem a wave of anti-government protests.
Hundreds of people have died in three years of unrest, and this is the second time since 2016 that a state of emergency has been declared.
What does the state of emergency prevent?
Preparing, printing or circulating any information that could cause disturbance or
suspicion
Displaying or publicising signs that could stir up violence
Protests and any form of group assembly
The halting of public services by anti-government protesters
The closing of businesses by anti-government protesters

The government also retains the freedom to shut down the media and impose a public curfew, details of which have not been released.

Under the conditions of the state of emergency, any person shutting down businesses or public services will face court action.

Why was a state of emergency declared?

The government gave three key reasons:
To ensure peace and political stability
To respond to the resignation of the prime minister
To facilitate a peaceful transition of power

However, some analysts say the order lacks legal basis and that claims about instability are not true. Instead they view the state of emergency as a warning to those who might try and cause trouble when a new prime minister is appointed.

Local activists are worried that another government measure might be aimed at further quelling dissent.

In January, officials released more than 3,000 political activists and journalists from prison including opposition leaders Bekele Gerba, Merera Gudina and Andualem Arage.

Opposition leader Merera Gudina is the highest profile prisoner to have been released so far
Activists say that the government might be releasing prisoners now to make space for others later.

But the authorities say the pardons are part of a move to create a national consensus and widen democratic participation.

The state of emergency, opponents say, contradicts that.

—
Related:
Ethiopia's Great Rift (Foreign Policy Magazine)
U.S. Urges Ethiopia to Reconsider State of Emergency
Ethiopia Vows No Military Takeover Amid Latest Emergency (AP)
UPDATE: Ethiopia Says State of Emergency Will Last Six Months
Ethiopia: Seize the Moment (Editorial)
PM Hailemariam Desalegn Resigns (Reuters)
UPDATE: Eskinder Nega & Woubshet Taye Released From Prison
Ethiopia drops charges against Zone 9 bloggers
Bekele Gerba Freed Amid Protests
Signs of Hopeful Debate Emerge Online as Ethiopia Grapples with Future
Ethiopia's Crisis of Ethnic Politics Taking Toll on Poor People
Ethiopia: 2,300 More Prisoners Pardoned
Interview: Merera Gudina Calls for Dialogue (AFP)
Ethiopia: Is This the Start of Reforms or Just a Pause in Repression? (The Economist)
Ethiopia: Media Roundup of Reactions to Announced Release of Political Prisoners

Join the conversation on Twitter and Facebook.