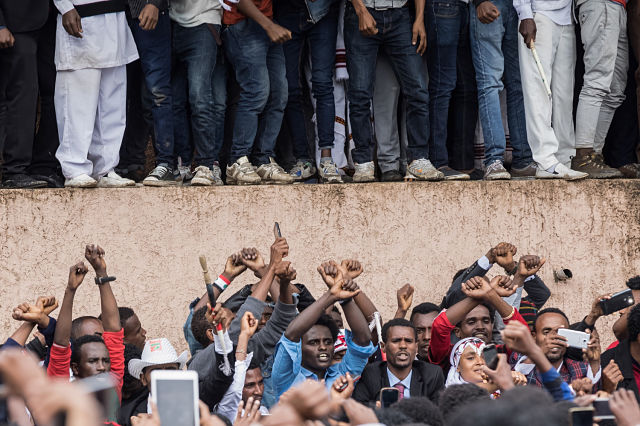 DDIS ABABA, Ethiopia — On the day that Bekele Gerba, a prominent Ethiopian opposition leader, was released from prison, thousands of people took to the streets in celebration. It was a scene unlike any other in Ethiopia over the last quarter century, during which the ruling Ethiopian People's Revolutionary Democratic Front (EPRDF) has kept a tight lid on dissent. On Feb. 13, jubilant crowds thronged into the streets and over soccer pitches, waving political flags and chanting Bekele's name. Two days later, Prime Minister Hailemariam Desalegn abruptly resigned. After nearly three years of sporadic anti-government protests, demonstrators in Ethiopia's disaffected Oromia and Amhara regions finally appeared to have gained the upper hand. Then on Feb. 16, the tide seemed to turn against them once again, as the government announced the imposition of a national state of emergency, the second of its kind in as many years.
Bekele's release was the culmination of a three-day standoff between the government, which had previously announced its intention to release some of its many thousands of political prisoners, and the protesters, who had grown impatient with the slow pace of the promised amnesties. For nearly a month, the wind has seemed to be at the protesters' backs: More than 6,000 political prisoners have been freed since January, meeting one of the demonstrators' most central demands. "Within a month, the political environment has completely changed," says Hallelujah Lulie, a political consultant based in Addis Ababa.
But a newly announced state of emergency, which will mean federal troops patrolling towns across Oromia and a curfew in parts of the country for the next six months, threatens to stall momentum for reform.
Behind the drama of the last week lies a radical shift in Ethiopia's political landscape, one that has the potential to lead to genuine reforms.
—
Related:
U.S. Urges Ethiopia to Reconsider State of Emergency
Ethiopia Vows No Military Takeover Amid Latest Emergency (AP)
UPDATE: Ethiopia Says State of Emergency Will Last Six Months
Ethiopia: Seize the Moment (Editorial)
PM Hailemariam Desalegn Resigns (Reuters)
UPDATE: Eskinder Nega & Woubshet Taye Released From Prison
Ethiopia drops charges against Zone 9 bloggers
Bekele Gerba Freed Amid Protests
Signs of Hopeful Debate Emerge Online as Ethiopia Grapples with Future
Ethiopia's Crisis of Ethnic Politics Taking Toll on Poor People
Ethiopia: 2,300 More Prisoners Pardoned
Interview: Merera Gudina Calls for Dialogue (AFP)
Ethiopia: Is This the Start of Reforms or Just a Pause in Repression? (The Economist)
Ethiopia: Media Roundup of Reactions to Announced Release of Political Prisoners
Join the conversation on Twitter and Facebook.