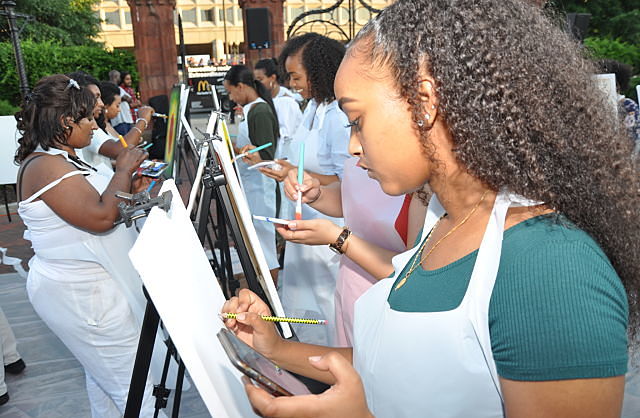 Tadias Magazine
By Tadias Staff
Updated: December 26th, 2017
New York (TADIAS) — As we close 2017 and wish our readers a happy, peaceful and prosperous new year, we also look forward to celebrating our 15th anniversary in 2018 with you.
The first issue of Tadias Magazine was launched in 2003 with the purpose of creating a platform that connects the Ethiopian American community and chronicling both the successes and challenges of the Ethiopian experience worldwide. Looking back we are happy to say that as documented in the rich archives of our publication Ethiopian Americans of all generations have risen to new heights in various fields and disciplines including in the sciences, arts, business, as well as serving as advisors to the President of the United States and as global cultural icons.
Below are the ten most popular stories that we featured this past year:
Beteseb Painting Session at Smithsonian in DC
In June 2017, the Smithsonian Institution's National Museum of African Art in Washington, D.C. hosted an evening of painting and Ethiopian Jazz "under the summer skies" with Beteseb Center and Feedel Band. We featured the Beteseb art program when it was first launched two years ago as a weekly Saturday painting session for amateur artists in a rental space on 18th street in the Adams Morgan neighborhood. We are delighted to see the program is still going strong.
Antu Yacob Performs "In the Gray" at United Solo Theatre Festival in New York
Antu Yacob's Ethio-American play "In the Gray" was featured at the 2017 United Solo Theatre festival in New York City this past September. Antu was the first Ethiopian American to have a play staged at the festival, which is the largest solo theatre festival in the world. The 75-minute storytelling and performance art narrates Antu's personal experience while growing up in the United States as she forms and re-negotiates her Ethiopian-American identity first as a teenager and later an adult pursuing a career in the theatre and film industry. In the Gray features Antu playing several engaging characters including herself, her 8-year-old son, as well as her muslim and Oromo activist mother who lives in Minnesota.
Four Ethiopians on 2018 Forbes 30 Under 30 List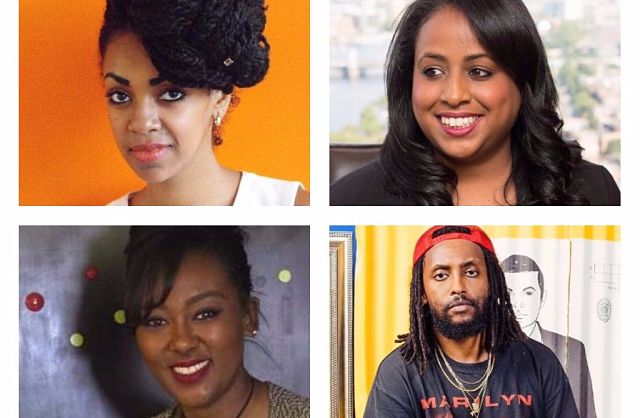 From top left: Tsion Gurmu, Legal Fellow at African Services Committee, Saron Tesfalul, Vice President, Bain Capital; Lilly Workneh, Senior editor, Black Voices, HuffPost; and Awol Erizku, Artist. (Photos: Forbes)
In November Forbes Magazine released its influential annual list of 600 young trailblazers in 20 different industries. The 2018 list features four Ethiopian American professionals in their twenties working in finance, media, art & style as well as law & policy. The Ethiopian Americans highlighted in Forbes' 30 Under 30 list include Tsion Gurmu, Legal Fellow at African Services Committee in New York City; Saron Tesfalul, Vice President at Bain Capital in Boston; Lilly Workneh, Senior Editor, Black Voices, HuffPost in New York; and Awol Erizku, Artist, also from NYC.
Scientist Sossina Haile Honored With GE Grand Central Video Installation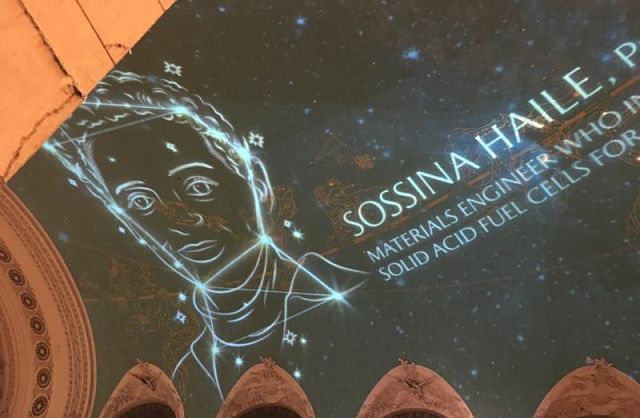 Ethiopian American Scientist Sossina Haile honored with a GE video installation on the ceiling of Grand Central Terminal in New York City on Tuesday, September 19th, 2017. (Courtesy photo)
Professor Sossina Haile, an expert in materials science and fuel cells research, was one of 12 female scientists who were honored in September with a spectacular video installation, projected on the ceiling of Grand Central Terminal in New York City, as part of a display called "Unseen Stars" recognizing "outstanding women in science."
Institute of Politics at Harvard Kennedy School Names Yohannes Abraham 2017 Fellow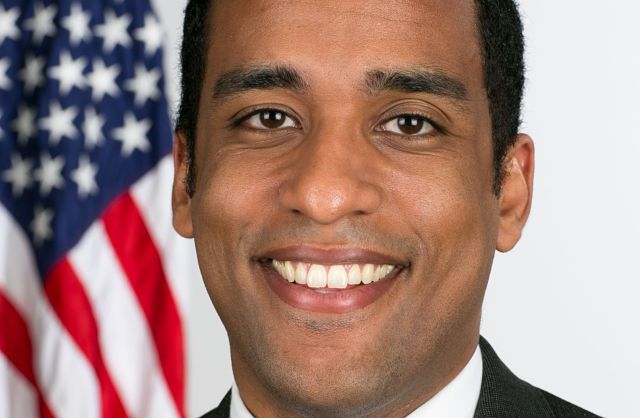 Former White House advisor Yohannes Abraham. (Courtesy Photo).
Yohannes Abraham was a 2017 Fellow at the Institute of Politics (IOP) at Harvard Kennedy School this Fall. "Yohannes Abraham has not only had a front row seat, but was an active participant in the complex process of shaping national and international policy [under President Obama]," said Cong. Bill Delahunt, Acting Director of the prestigious institution. "His willingness to share his White House experience with students will provide them a rare first-hand perspective on the challenges of governing." Yohannes served as Deputy Assistant to the President for the Office of Public Engagement & Intergovernmental Affairs and Senior Advisor to the National Economic Council during the Obama administration. He is currently Senior Advisor to the Obama Foundation.
New "Deseta Emojis" App on iTunes Celebrate Everything Ethiopian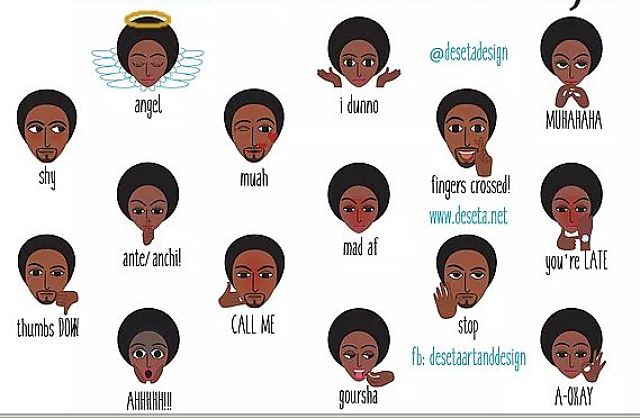 (Courtesy of Deseta Design)
In your next text message you may now include Deseta Emojis to express yourself with Ethiopian humor. The digital icons often used to communicate ideas and emotions comes courtesy of Deseta Design. Announcing that its keyboard app contains over 200 small emojis Deseta Design says that the current collection is available for download on the App Store (Android version coming soon). Deseta emojis include icons of injera, buna, jebena and goursha. The images "celebrate everything Ethiopian in all of its glory," says Maro Haile, owner of Deseta Design, an NYC-based online creative venture.
Long Distance Runner Almaz Ayana: 2017 World Athlete of the Year Finalist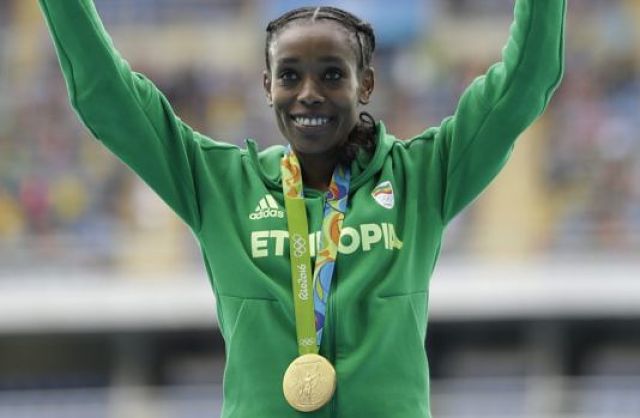 Almaz Ayana. (AP photo)
Our highlight of Olympic champion and world 10,000m titleholder Almaz Ayana's second nomination for the World Athlete of the Year award last month was one of the most viewed stories of the year on the Tadias website. Almaz was the winner of last year's Female World Athlete of the Year prize given by the International Association of Athletics Federations (IAAF). We wish Almaz Ayana continued success as she represents Ethiopia in future world events.
In New Release Meklit Pays Homage To Ethio-Jazz
This year musician Meklit Hadero released one of her best albums yet. The CD entitled When The People Move, The Music Moves Too includes a beautiful tribute to Meklit's own musical role models hailing from Ethiopia and the United States in a song called I Want to Sing for Them All (watch the video above). As Vibe magazine points out: "I Want to Sing For Them All is her musical manifesto, and how she intertwines both of the music of American and Ethiopian heritages." Meklit adds: "We came to this country when I was about two. I am an immigrant, so I guess you could say this is immigrant music. But I would not be who I am without Jazz, and Blues and Hip-Hop and Soul. This music is Ethio-American, just like me. I find joy in the bigness of that space."
Gebisa Ejeta Receives $5M Grant for Grain Research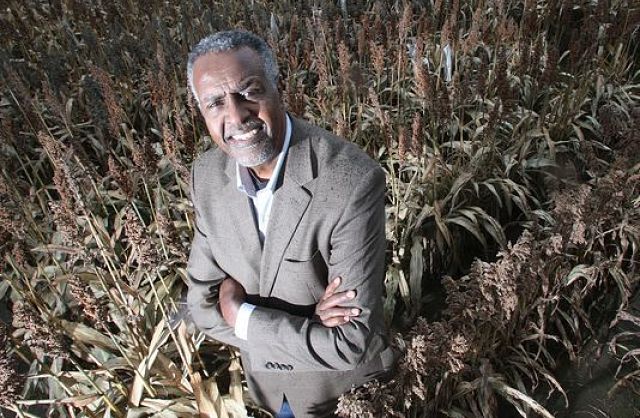 Gebisa Ejeta is an Ethiopian American plant breeder, geneticist and Professor at Purdue University. In 2009, he won the World Food Prize for his major contributions in the production of sorghum. (Photo: Purdue)
Per AP: "Gebisa Ejeta received the four-year grant from the Bill and Melinda Gates Foundation, the Journal and Courier reported. "It is the second foundation that has donated to the cause. It's very helpful a grant such as this for the kind of programs that they support in developing countries because it allows us to engage beyond the normal boundaries we operate," Ejeta said. Ejeta developed a hybrid sorghum seed that's drought-tolerant and resistant to striga, which strips food sources from its nutrients. Ejeta is credited with helping feed hundreds of millions of people in sub-Saharan Africa with his work developments."
Marcus Samuelsson to Host New PBS Show Celebrating Food, Art, Culture & Immigrants in America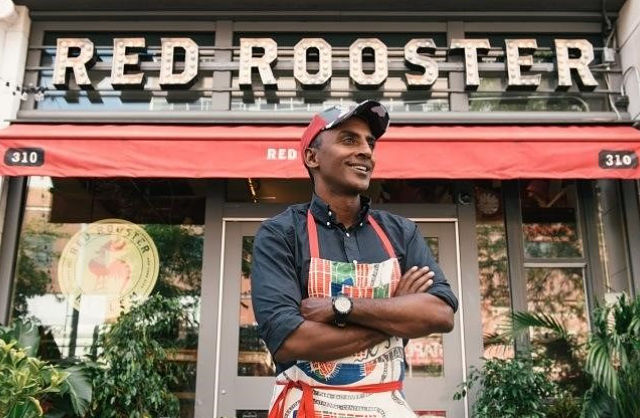 Marcus Samuelsson, pictured outside his Red Rooster Harlem, will travel across the United States from DC to the Bay Area in California to spotlight the cuisine in local immigrant communities. (Photo: by Matt Dutile)
Next year Marcus Samuelsson is set to Host a New PBS show, tentatively titled No Passport Required that highlights food, art and culture from the vibrant Ethiopian restaurant scene in the Washington, D.C. metropolitan area to Little Kabul in Fremont, California and the Vietnamese shrimpers in Louisiana. "No Passport Required will celebrate America's diverse cultural mosaic as Samuelsson travels to under-explored parts of American cities to showcase the people, places and culinary flavors of immigrant communities," PBS announced, noting that the series will premiere in 2018.
—
Related:
15 Arts & Culture Stories of 2016 in Photos
Ethiopia: 2016 in Pictures
Ten Arts & Culture Stories of 2015
Ten Arts & Culture Stories of 2014
Ten Arts and Culture Stories of 2013
Tadias Year in Review: 2015 in Pictures
Tadias Year in Review: 2014 in Pictures
Tadias Year in Review: 2013 in Pictures
Top 10 Stories of 2013
Join the conversation on Twitter and Facebook.