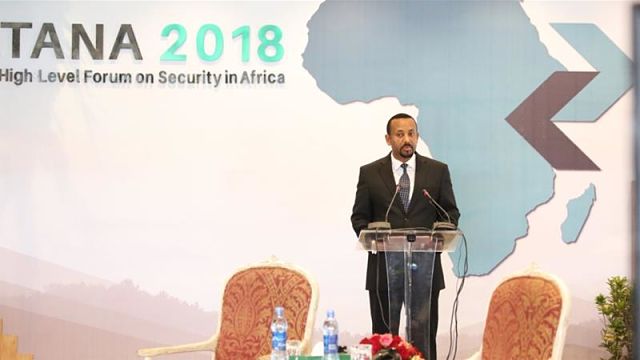 "This new guy – he's a good guy. Very good brain. Now everything in Ethiopia is going to be OK".
My taxi driver Daniel offers up this unprompted insight as we zip through the streets of Addis Ababa, letting me in on the sentiment around the unprecedented year Ethiopia had.
The "new guy" is Dr Abiy Ahmed, the recently selected chair of the Ethiopian People's Revolutionary Democratic Front (EPDRF), the coalition that has been ruling Africa's second-most populous country for 27 years. At 42 years old, Dr Ahmed is not just the youngest Ethiopian prime minster ever, but also the first from the Oromo community, the largest ethnic group in the country. For Daniel and others who offered their unprompted opinions, Dr Ahmed not only offers respite from nearly two years of political and social upheaval that threatened to undo Ethiopia altogether, but the hope of a more inclusive and democratic Ethiopia.
Earlier in the week, Dr Ahmed offered the keynote address at the Tana High Level Forum on Peace and Security in Africa, an annual event held in the resort city of Bahir Dar, the State Capital of the Amhara region. Similar to the Davos World Economic Forum, the event brings together current and former political and academic leaders on the continent for an informal dialogue on enhancing peace and security on the continent. At the margins of the summit, hundreds of bilateral meetings between regional politicians, Addis Ababa's vast diplomatic corps and numerous international organisations make this one of the more significant networking events at the continent.
Bahir Dar was a stopover for Dr Ahmed in the midst of a whirlwind tour of Ethiopia, uneasily calm after years of intensifying unrest that implicated three of the country's largest regions – Amhara, Oromia and the Somali region. The prime minister arrived at the forum after visiting Gondar, a historical town known for its 15th and 16th century churches and distinct orthodox Christian crosses that was the epicentre of many protests in the previous two years. By the time Ahmed arrived in Bahir Dar, internet access in the town had only just been restored after a nearly two year shut down.
The air in Bahir Dar was electric with anticipation of Ahmed's arrival, with everyone waiting to hear what he has to say. "He's very young," said one driver, "but he's very clever. He is [a] doctor, you know?"
At the summit and beyond, expectations on Ahmed's shoulders are high…
In contrast to earlier speeches in parliament and at various stops on his tour, at the summit Dr Ahmed's speech did not touch on Ethiopia's political flux, but the symbolism of his visit is unmissable for Ethiopian watchers.
—
Related:
Ethiopia's Prime Minister Shows Knack for Balancing Reform and Continuity
In Defense of Ethiopia: New PM is Fixing the Broken System
PM Abiy Visits Gondar & Bahir Dar as Part of National Tour
PM Abiy Names Cabinet (Reuters)
Ethiopia: Prime Minister Sidelines Military On Development Project (Stratfor)
No Quick Fix to Ethiopia's Hard Currency Crisis, Says PM
Ethiopia Beats Ghana as Fastest-Growing Africa Economy for IMF (Bloomberg)
Ethiopia Ends Web Blackout, Raising Hopes of Reforms Under New PM (Reuters)
Ethiopia's New Leader Makes Rare Outreach to Opposition (AP)
In Ambo, Ethiopia PM Asks for Patience as He Seeks Change (AFP)
Ethiopia's new PM visits town that was center of anti-government protests (Reuters)
Ethiopia PM gets huge welcome in Ambo (Africa News)
US House Approves Ethiopia Resolution H. Res. 128 Amid Objection on Timing
In Ethiopia Internet Returns, Maekelawi Closed, PM Visits Jijiga on Peace Mission
Ethiopia Frees Re-Arrested Journalists (AP)
A Charismatic Young Leader Tries to Calm Ethnic Tension in Ethiopia
Herculean Task Awaits Abiy Ahmed on Human Rights in Ethiopia
Ethiopia's PM Abiy Delivers Hopeful Inauguration Speech (Video)
Ethiopia Swears in New Prime Minister (AP)
Ethiopia Seeks Calm With a New Leader (The New York Times)
Join the conversation on Twitter and Facebook.