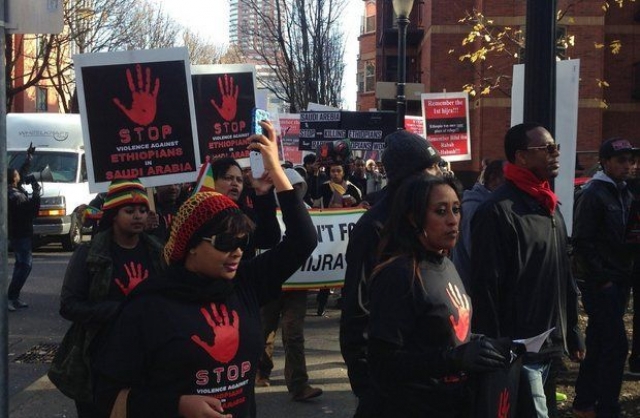 By Andrew Theen
Several dozen people marched through downtown Portland and the South Park Blocks Monday to protest what they called Saudi Arabia's violent crackdown on Ethiopian workers in the Middle Eastern kingdom.
Men, women and children marched down Southwest Broadway carrying signs and chanting during the noon hour. Many wore black t-shirts with a large red hand reading "Stop violence against Ethiopians in Saudi Arabia."
Protesters spread the word of Monday's march through a Facebook page and at Ethiopian restaurants and other community institutions.
"We're just out here standing up for our people," Wienta Mebrahtu said.
Mebrahtu said the issue of violence against foreign workers in Saudi Arabia has grown more visible in recent weeks.
Video: Dozens march in downtown Portland

—
Related:
Ethiopian rallies urge end to mistreatment of migrants in Saudi Arabia (The Denver Post)
Beyond Outrage: How the African Diaspora Can Support Migrant Workers (Huffington Post)
—
Photos: Ethiopians Hold Protest at Saudi Embassy in Los Angeles (TADIAS)

—
Photos: NYC Ethiopians Make Presence Felt at the Saudi Mission to the United Nations (TADIAS)

—
Ethiopians march in downtown Dallas to protest abuse in Saudi Arabia (Dallas News)
Sioux Falls, South Dakota: Ethiopians Protest Killings In Saudi Arabia (KDLT News)
Ethiopians demonstrate outside Saudi embassy in London (BBC News)
Canada: Ethiopian community protests working conditions in Saudi Arabia (CTV News)
The Ethiopian Migrant Crisis in Saudi Arabia: Taking Accountability (TADIAS)
Tadias Interview With Rima Kalush: Migrant-Rights Org Seeks Long Term Solutions
Ethiopians Continue Peaceful Protests Against Migrant Abuse in Saudi Arabia (TADIAS)
—
Photos: Ethiopians Hold Protest Outside Saudi Embassy in Washington, D.C. (TADIAS)

—
Ethiopians: #SomeoneTellSaudiArabia to Stop Crackdown (Global Voices)
First group of Ethiopians from Saudi arrive in Addis (ERTA)
23,000 Ethiopians 'Surrender' in Saudi After Clamp Down (BBC)
Three Ethiopians Killed in Saudi Arabia Visa Crackdown (AFP)
Ethiopian Domestic Help Abuse Headlines From the Middle East (TADIAS)
Changing Ethiopia's Media Image: The Case of People-Trafficking (TADIAS)
Video: Ethiopian migrants tell of torture and rape in Yemen (BBC)
Video: Inside Yemen's 'torture camps' (BBC News)
BBC Uncovers Untold People-Trafficking, Torture of Ethiopians in Yemen (TADIAS)
Meskerem Assefa Advocates for Ethiopian Women in the Middle East (TADIAS)
In Memory of Alem Dechassa: Reporting & Mapping Domestic Migrant Worker Abuse
Photos: Vigil for Alem Dechassa Outside Lebanon Embassy in D.C.
The Plight of Ethiopian Women in the Middle East: Q & A With Rahel Zegeye
Ethiopians Returning From Saudi Arabia Describe Horrible Attacks http://t.co/EFWepkLsct

— Tadias Magazine (@TadiasNews) November 17, 2013
Join the conversation on Twitter and Facebook.